Kristina Rihanoff will be paired with celebrity contestant and devout Catholic Daniel O'Donnell for this year's series of Strictly Come Dancing, as BBC bosses attempt to put an end to the show's reputation of breaking up existing relationship's outside of the competition.
The professional dancer, who has been a part of the reality series since its sixth season, has been nicknamed the Siberian Siren over the years and has dated two of her former dance partners from the show, Ben Cohen and Joe Calzaghe. Additionally, fellow professional on the programme, Vincent Simone cheated on his girlfriend with the 37-year-old in 2008.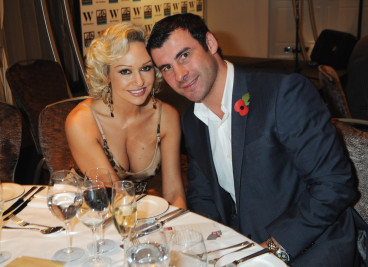 Retired boxer Calzaghe left his girlfriend of five years after participating in the contest way back in 2009 and continued to date Rihanoff for four years.
More recently, former rugby union player Cohen split from his wife of ten years shortly after he appeared on the eleventh series of the show in 2013, to enter into a relationship with his Russian dance partner. The couple are still together, after announcing that they were an item last year.
Married O'Donnell has carved himself somewhat of a moral image throughout his 35-year career, frequently recording hymns and gospel songs as well as hosting an annual tea party with his fans at his mother's home in County Donegal, Ireland.
An insider from the BBC told the Mirror: "It was thought Daniel was the perfect person to pair with Kristina amid the controversies. Going public with Ben this summer has really put her in the spotlight and the BBC doesn't want to risk looking like its courting drama by pairing her with someone there could be flirtations with. Daniel is such a wholesome character, he was deemed the most appropriate partner."
The pair were revealed to be dancing as a twosome after an audience member, who saw the duo together in a pre-recorded segment leaked the news on an internet television forum. BBC sources then confirmed the announcement to the publication exclusively.
Whilst the Strictly studio heads are keen to keep to Rihanoff from "flirting" on the show, the other celebrity contestants insist that their relationships can avoid being the next victims of the infamous Strictly curse. Anthony Ogogo, Kellie Bright, Katie Derham, Georgia May Foote and Peter Andre are all in steady relationships but believe they won't be affected by the tradition.
Andre recently stated that he'd be "a bit worried" if his new wife Emily MacDonagh felt she had to warn him not to be distracted by the dancers on the show. Similarly, Foote, who is dating her Coronation Street co-star Sean Ward, said: "He has been absolutely amazing about it. It's acting still, it's not anything to ever worry about."
Fans of the show can find who all the other famous faces will be paired with on the launch show of the 13th season, which will begin tomorrow (Saturday 5 September). It will air on BBC One at 7.15pm.