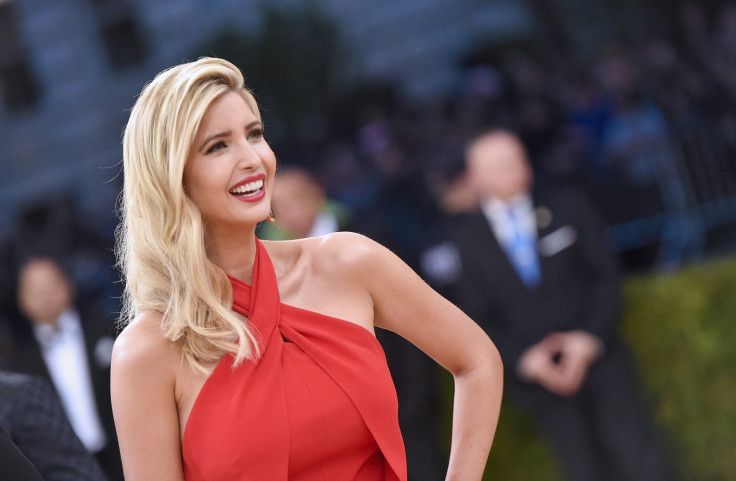 She might have got off on the wrong foot with fashion critics a while back, but Ivanka Trump is back on track with her style game – this time impressing fans with an elegant yet uber glamorous red ball gown.
The first daughter seemed to have upped her sartorial taste for an evening, choosing a floor-length body-hugging outfit with extra-flared sleeves. Keeping up with overall elegance of her look, the 36-year-old fashion designer simply accessorised with chandelier earrings and a well-coiffed hairdo.
"Peak-a-boo!" the daughter of US President Donald Trump wrote alongside the image, which she shared with her 4 million plus followers on Instagram. While Ivanka in her towering heels and sleek attire looked nothing less than a "goddess", but what caught fans' attention was perhaps her youngest child Theodore, who adorably tried to hide in the train of her dress.
"So nice picture! Not only your red dress but your child in this situation, it's so sweet (sic)," an Instagram user commented, echoing the general mix of emotions. Someone else chimed in, "Cuteness overload."
A third fan complimented the mother-of-three, writing, "You are such a beautiful homemaker Ivanka." Another gushed, "The simplicity is what makes Ivanka more beautiful and gorgeous."
"Oh my goodness the #mommyTent #tentDress #tooCute!" one of her followers shared, as another simply exclaimed, "stunning!"
Amid the flurry of raving messages, however, the senior White House advisor was also subjected to some hateful remarks. But like always, Ivanka's followers had her back.
"Absolutely beautiful and exactly how a child is with their mother. The love she has for her kids and theirs for her is evident. It's nice to see her enjoying motherhood. Let the haters hate Ivanka. There is nothing you wear or say or do that will satisfy these stupid people. You keep being you!" wrote a supporter.
Ivanka followed up the sweet snap with another upload, sharing a glimpse of her brood-of-three on Twitter. As Arabella, six, and Joseph, four, joined Theodore, one, for the group click, this time, the mum-of-three once again captioned the photo: "Peak-a-boo!" (She probably meant peek-a-boo).