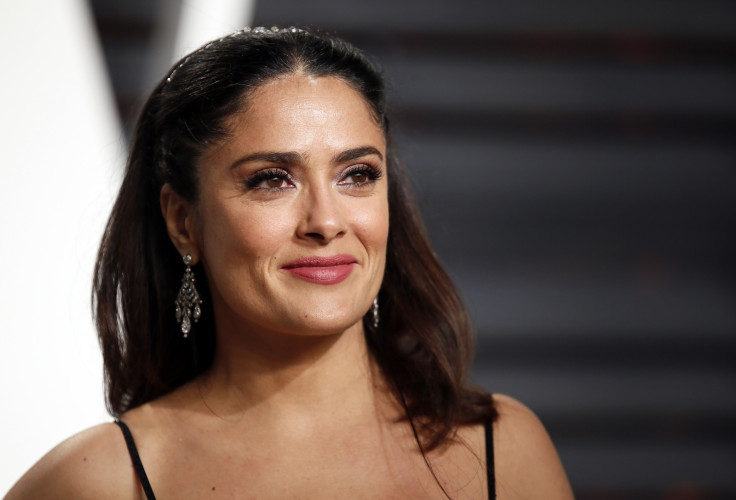 On screen, she is an absolute stunner, and off-screen Hollywood diva Salma Hayek is nothing less than an enchantress with her envy-worthy curves and smouldering poses. When it comes to her, age is just a number, and the 51-year-old actress proved it again with an eye-popping photo shoot.
Hayek unleashed her sultry charm in front of the lens, showing off her curves in a backless white gown that was heavily embellished with a fringe-type design.
With her lips slightly parted and her dramatic eyes staring straight into the camera, the actress was oozing sex appeal in the magazine shot, which was captured by photographer Juergen Teller.
The Mexican-American actress' flawless look for the shot was completed with a hint of blush and a centre-parted hairstyle that had her luscious locks cascading down her shoulders. And looks like the brunette beauty was quite pleased with the get-up herself as she shared the snap with her fans on Instagram.
"Thank you so much @wmag and @britishvogue for including me in your Best Performances Issue for #beatrizatdinner," the Beatriz At Dinner star shared alongside the photo. Later, the same look was shared on the official Instagram account of W magazine as well.
An accompanying photo caption included Hayek's reflections on her career and the world of showbiz in general. It read, "I had a successful soap opera career in Mexico, but I left my fame and my comfort and I moved to Los Angeles because I wanted to make films. I was very, very famous in Mexico, and in the States I was working as an extra.
"People thought maybe I was running from the police. Why else would I leave everything I had to play a maid? I told them, 'This industry is going to change. We are too strong of an economic force to be ignored forever'," she wrote.
Indeed, with her stellar performance in Beatriz At Dinner, Hayek seems to be among the top contenders for awards in the upcoming season. But as of now, the actress is busy keeping her fans on their toes, with one saucy upload after another.
Impressed with her look in white, one of her fans commented, "The most beautiful woman in the world!!"
An admirer couldn't help but gush about her talent and beauty, saying, "@salmahayek you make me want to grow and be a strong woman like you. My favourite thing about you is you're not always playing a beautiful character – physically. But the characters you play are physically beautiful on the inside as well as out. You are my inspiration," the fan wrote.
"I love you Salma! You follow your instinct and it pays off! I love your determination and your drive!" added another.