Daniel Sturridge has revealed the influence that former Chelsea striker Didier Drogba has had on his career as he looks to emulate the Ivorian by becoming one of the Premier League's top players.
The 23 year old was in sparkling form against Fulham at the weekend as he scored his first Liverpool hat-trick to help the club secure a 3-1 win at Craven Cottage.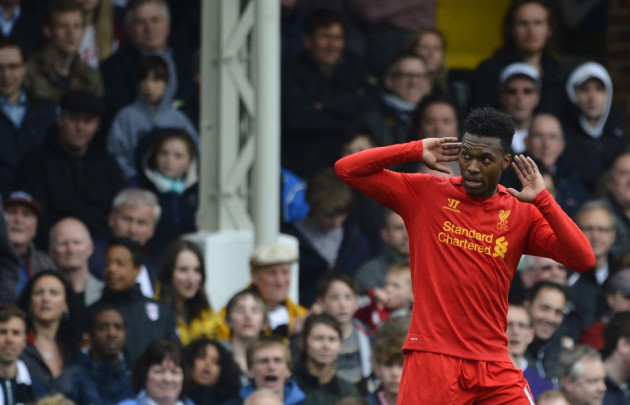 Sturridge has impressed since making the move to Liverpool in January and has already managed to find the back of the net on 11 occasions as he looks to finally make the most of his undoubted ability.
With much more responsibility now on his shoulders, with Luis Suarez sidelined due to his 10 game ban, Sturridge has revealed that his new-found mental strength has come from working closely with former Chelsea powerhouse Drogba.
"Being strong mentally is the one thing that can separate you from anyone else," Sturridge told the official Liverpool website. "When I worked with Drogba at Chelsea, the one strength he had above everybody was his mental strength.
"I learned a lot from working with him about what it takes to be a top player. Hopefully I'll become one.
"It's a fantastic feeling to score a hat-trick. Hopefully I'll have a long career ahead of me with Liverpool.
"I am a lot more peaceful and I'm playing with a clear mind. Before there were a lot of things going on and mentally it was hard for me. It's difficult when you do well and then don't play the next game as you feel 'what more can I do?'"
While Sturridge has had a significant impact since moving to Anfield, with Liverpool only losing one of their last 11 games, it has still been a disappointing season for manager Brendan Rodgers.
Liverpool cannot finish any higher than seventh and while they have begun to string together some positive results, Sturridge remains cautious about raising expectations for next season.
"We're playing well and we've got a lot of good players here," added Sturridge. "But I don't want to put any pressure on ourselves by talking about the top four for next season.
"We just need to focus on the one league game we've got left and then come back and work hard in pre-season.
"We need to leave the manager to do his job in terms of whether he's going to make any signings and as players we all just need to come into work every day with the right attitude and implement what the manager wants us to do."