The Joker's tattoos in Suicide Squad have a specific purpose than just to make the Clown Prince of Crime look more dangerous. Director David Ayer has revealed that the tattoos will tell a "very specify story" about the villain's past.
The most visible ink Jared Leto's Joker sports is the "Damaged" tattoo on his forehead. The rest of the tattoos are hidden on various parts of his body.
"The tattoos tell a very specific story. And eventually people will decipher them and understand what's going on, but obviously they're contentious, any time you do something new it's contentious," Ayer said, according to CinemanBlend.
"There's very specific stories and easter eggs in those tattoos. And even his teeth, there's an entire story behind that which is absolutely canon. It's putting his history on his body. This Joker is a little more working class, who I believe could live in our world."
Ayer also said he was inspired from drug lords to give The Joker numerous tattoos and his backstory.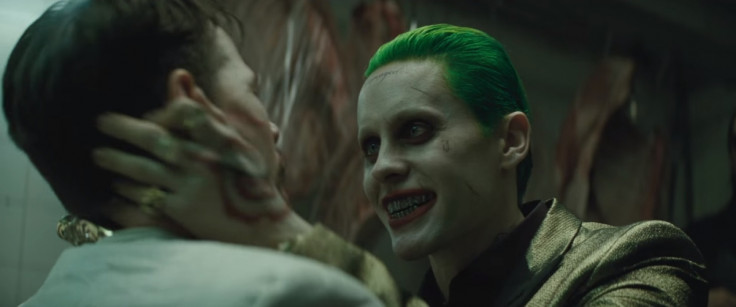 "If a guy like him really existed today, where would he come from? How would he do business? Who would he know? What would he look like? In my mind, I took a lot of inspiration from drug lords on Instagram. It's a great way to understand the lifestyle of a villain," Ayer said.
The official synopsis for the movie reads: "It feels good to be bad... Assemble a team of the world's most dangerous, incarcerated Super Villains, provide them with the world's most powerful arsenal at the government's disposal, and send them off on a mission to defeat an enigmatic insuperable entity.
"US intelligence officer Amanda Willer has convened a group of disparate individuals with next to nothing to lose will do. However, once they realize they weren't picked to succeed but chosen for their patient culpability when they inevitably fail, will the Suicide Squad resolve to die trying, or decide it's every man for himself?"
The cast of the movie includes Margot Robbie as Harley Quinn, Leto as The Joker, Will Smith as Deadshot, Joel Kinnaman as Rick Flagg, Courtney as Captain Boomerang, Delevingne as Enchantress, Karen Fukuhara as Katana, Adewale Akinnuoye-Agbaje as Killer Croc, Jay Hernandez as El Diablo, Adam Beach as Slipknot and Viola Davis as Amanda Waller.
The movie will release in theatres on 5 August.