The New England Patriots completed one of the most astonishing comebacks in recent sporting memory on Sunday night (5 February) to defeat the Atlanta Falcons 34-28 at NRG Stadium in Houston, Texas. The AFC kings erased a 25-point second-half deficit and forced the first-ever period of Super Bowl overtime en route to scooping their fifth NFL championship in 16 years under legendary head coach Bill Belichick.
Tom Brady, who missed the opening four games of the season after a suspension handed down in the wake of the 'Deflategate' scandal, ended up completing 43 of his 62 passing attempts for 466 yards and two touchdowns to deservedly earn Most Valuable Player honours. The evergreen 39-year-old moves clear of boyhood idol Joe Montana as the first four-time Super Bowl MVP. He is the only quarterback to date to have won five titles.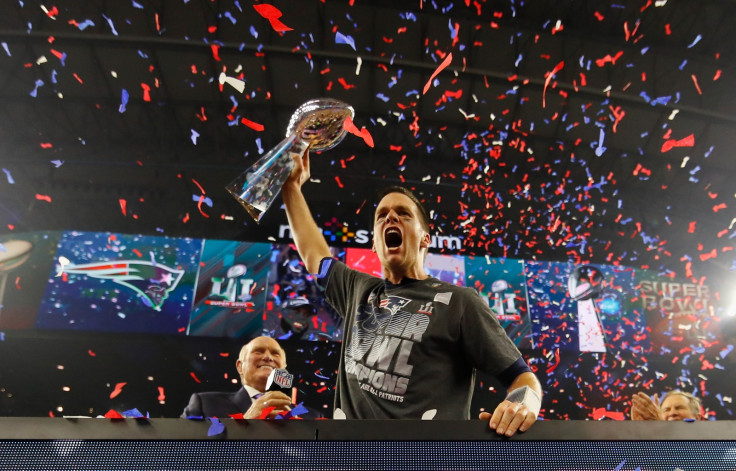 Running back James White also played an integral role, setting a new Super Bowl record for receptions and racking up a game-high 110 receiving yards. He also secured a pivotal two-point conversion and ran in the final touchdown that ensured the Vince Lombardi Trophy will head back to Foxborough for the second time in three years.
Defense reigned supreme during a surprisingly scoreless opening quarter, with Trey Flowers sacking newly-crowned regular-season MVP Matt Ryan before Brady was taken down twice in quick succession by Courtney Upshaw and Grady Jarrett. Ryan later tried to scamper for a first down but was stopped in his tracks by Jabaal Sheard. The Falcons' stellar run of scoring a touchdown on their opening drive ended after eight games despite Devonta Freeman ripping off an impressive 37-yard run at the first attempt.
Brady began the second period in swift fashion by connecting with Julian Edelman for a sizeable gain, but any momentum was quickly lost when Deion Jones forced a rare LeGarrette Blount fumble. The Falcons recovered possession and kicked their NFL-best offense into gear, with superb back-to-back catches from Julio Jones and two dangerous Freeman runs getting them down to the five-yard line. The former Florida State Seminole then executed a terrific jump cut to the outside and raced unchecked into the end zone for the opening score.
Atlanta's defensive backs continued to swarm to the ball like locusts, forcing another punt. Ryan quickly set to work once again, hitting Taylor Gabriel downfield and watching on as Julio Jones somehow kept his feet inbounds near the left sideline. After failing with one pass towards Austin Hooper, he found the rookie tight end on third and nine for a second touchdown. Matt Bryant's kick was eventually successful despite an initial errant snap.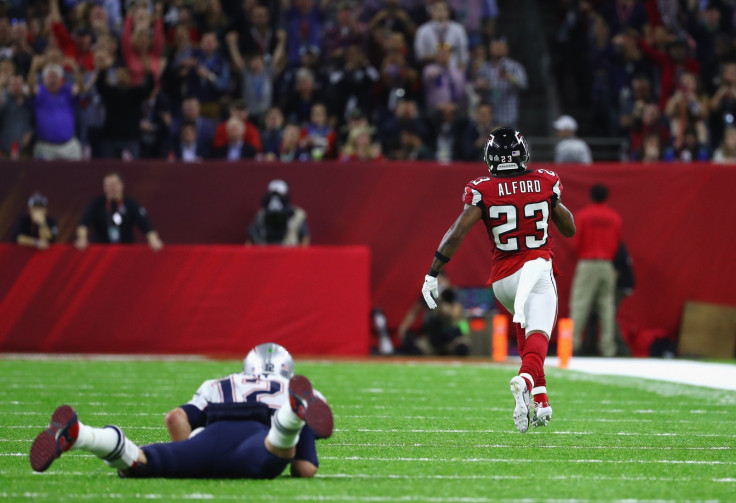 Looking to muster some sort of response, the Patriots were bailed out by third-down holding penalties three times on the same drive. Brady thought he had an easy pass to Edelman in man-to-man coverage, but was essentially tricked by a lurking Robert Alford. The fourth-year cornerback stepped up to make the interception and ran the ball 82 yards to the house. It was a pick-six that stunned the predominantly pro-Pats crowd.
A gain of 29 from White helped New England to advance and, after a timeout, it looked as if they had engineered a first and goal situation after the versatile tailback beat Deion Jones before being knocked out of bounds inside the five. However, Martellus Bennett, who had earlier saved a potential second Brady pick, was called for offensive holding. An ambitious tight-end screen then predictably failed and Stephen Gostkowski kicked a 41-yard field goal to finally put the Patriots on the board.
Having deferred after winning the pre-game toss, the Falcons got the ball back to start the third. That could have been a chance to land the final killer blow, but neither Freeman nor Gabriel could keep their attack alive. A stirring Edelman punt return then set up good field position, yet the trusted wide receiver inexplicably dropped a pass on third and 12 as the Patriots went three and out once more.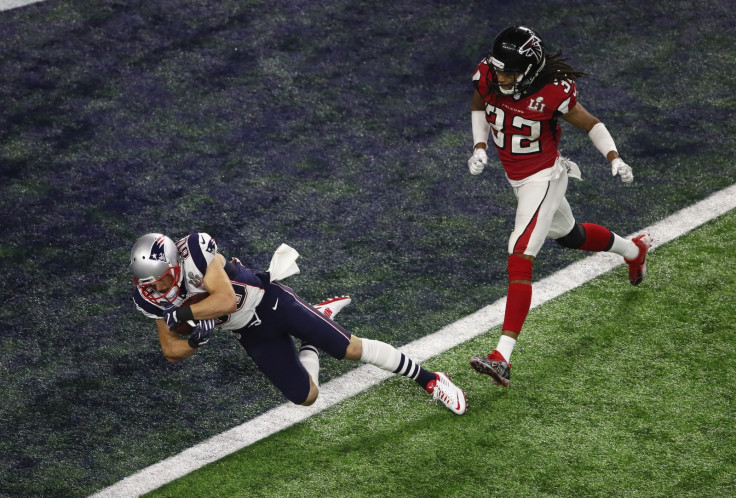 Hoping to extend Atlanta's lead even further, Gabriel made Malcolm Butler look very foolish indeed before reeling in a 36-yard catch and Mohamed Sanu pulled in another pass. Gabriel could not do it again on third down and was relieved to see Butler penalised. From first and goal at the six, Ryan teed up Tevin Coleman for an easy touchdown.
A trick play from Edelman gave off a distinct whiff of desperation, but the decision to go for it on fourth down was vindicated as Danny Amendola made a big catch and Brady defied his advancing years to scramble for 16 yards before combining with White for a close-range score. Gostkowski's subsequent extra-point attempt clanged off the right upright and a completely botched onside kick rather compounded his misery. Kyle Van Noy and Flowers combined to sack Ryan again and the Falcons headed into the final quarter leading by 19.
The Patriots, displaying a sense of necessary urgency, were quickly able to march downfield thanks to catches from Malcolm Mitchell, White and Bennett. The four-time champions looked primed to strike again from the seven-yard line, but Jarrett, whose father Jessie Tuggle played for the Falcons during their only previous Super Bowl appearance in 1999, twice knocked Brady to the ground to increase his own sack total to three. Gostkowski squeezed in a field goal from 33 yards.
New England's defense showed no signs of giving up and linebacker Dont'a Hightower forced Ryan into a fumble that was recovered by Alan Branch. Despite being sacked again by veteran Dwight Freeney, Brady retained his composure to find Amendola for the six-yard touchdown. White's clever two-point conversion from a direct snap trimmed the deficit to eight and set up the sort of grandstand finish that looked so unlikely at the interval.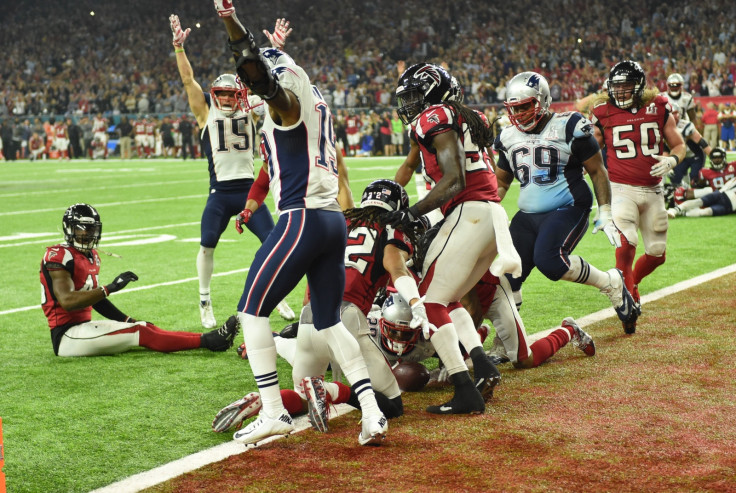 With a large lead whittled down to eight in the blink of an eye, the Falcons needed their star offensive players to relieve some of the pressure. Freeman obliged with a 39-yard catch and run, while Julio Jones sent social media into meltdown with some more sensational footwork. Flowers struck again to sack Ryan for a loss of 12 and Atlanta found their way into field-goal range before Tom Compton was slapped with a holding penalty. An incomplete pass intended for Gabriel brought out punter Matt Bosher and handed the ball back to Brady with three-and-a-half minutes still to play.
Going to work with trademark surgical precision, he combined with both Chris Hogan and Mitchell before Edelman, with New England's own version of the infamous David Tyree helmet catch that inspired their first Super Bowl defeat to the New York Giants nine years ago, made an utterly ridiculous circus grab of his own. Further catches by Amendola and White either side of the two-minute warning led to first and goal at the eight. The latter claimed another before punching the ball in from the one-yard line. Brady then found Amendola for another successful two-point conversion that tied a truly engrossing contest at 28.
Having crucially burned all three of their timeouts, the Falcons were unable to get near field-goal range and an Edelman fair catch led to a last-second run from Dion Lewis that ended abruptly with an apparent hamstring injury.
Heading into that maiden stretch of overtime, the Patriots won the toss and Brady, knowing that a touchdown would end the game, dispatched completed passes to White, Amendola and Hogan. After a loss of three, he released both Edelman and White before Bennett was denied the game-winner by a spot of defensive pass interference from De'Vondre Campbell. Vic Beasley thwarted him again in fairer fashion, but White was able to sneak the ball over the line and spark contrasting scenes of jubilation and total despair.