Supermarkets have been warned to keep daffodils away from their fruit and vegetable aisles this spring, due to the risk of them being mistaken for food.
Public Health England has written a letter to the major chains warning that the bulbs could be confused with onions or Chinese vegetables, and that eating them by mistake was an "emerging risk".
Professor Paul Cosford, director for health protection at Public Health England, wrote the letter to the stores, headed "steps to avoid daffodil poisonings this spring". He went on to say: "Each spring stores such as yours provide a wide selection of flowers, particularly cut daffodils and daffodil bulbs.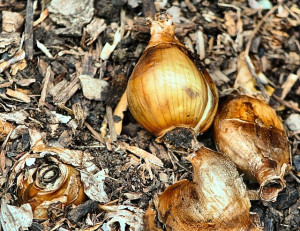 "Unfortunately there are rare occasions when the bulbs are mistaken for onions, and the stems or leaves are mistaken for a type of vegetable popular in China. As I'm sure you are aware, daffodils are dangerous if eaten and poisoning can occur as a result."
He continued: "We are asking you, along with all other major supermarkets, to ensure that daffodils, both the bulbs from which they sprout and the cut variety too, are displayed well away from the produce or fruit and vegetable area."
Daffodils contain toxic alkaloids which can cause severe vomiting, according to the letter. It also stated that last year there were 27 cases of poisoning linked to daffodils and narcissi.
The whole of the daffodil plant is known to be poisonous, but especially the bulbs. The plant contains no less than three poisonous substances. There are two toxic alkaloids – narcissine (also known as lycorine) and galantamine – as well as another kind of toxin called a glycoside, specifically scillaine (scillitoxin).
Most victims do recover without treatment, though the bulbs can be fatal for dogs.
The most common mistake is to mistake the bulbs for onions. In 2012, Bristol's Chinese community was warned not to eat the plant after 10 people were treated in hospital. It is believed that they could have mistaken the green parts of the flower for a chive which features in Chinese cuisine. Public Health Wales say they support Professor Cosford's current guidance.
Public Health Wales say they support Professor Cosford's current guidance.