US Supreme Court nominee Neil Gorsuch has said that attacks on the judiciary from US President Donald Trump are "disheartening" and "demoralising", during his second day of questioning by the Senate Judicial Committee.
At the hearing, lead by Connecticut Senator Richard Blumenthal on Tuesday (21 March), Gorsuch stated: "When anyone criticizes the honesty and integrity or the motives of a federal judge, I find that disheartening, I find that demoralizing,"
When pressed by Blumenthal as to whether this included the president, Gorsuch replied: "Anyone is anyone."
White House Press Secretary Sean Spicer reacted strongly to media coverage of the incident, branding an Associated Press news alert on Twitter as "wrong and misleading," despite evidence to the contrary.
The AP tweet read "Supreme Court nominee Neil Gorsuch publicly calls President Trump's attacks on judges "disheartening," ''demoralizing," but Spicer has since tried to claim that Gorsuch "... spoke broadly and never mentioned any person".
The fractious response typifies the Trump administration's relationship with the judiciary. During court battles against Trump's first attempted travel ban, the Republican president dismissed the opposing Judge James Robart as a "so-called judge" and said "if something happens blame him and court system".
The Tuesday hearing saw Gorsuch attempt to define himself as an independent judge, rather than the Republican pick that some have made him out to be. When asked about how he would rule on certain issues, Gorsuch resisted.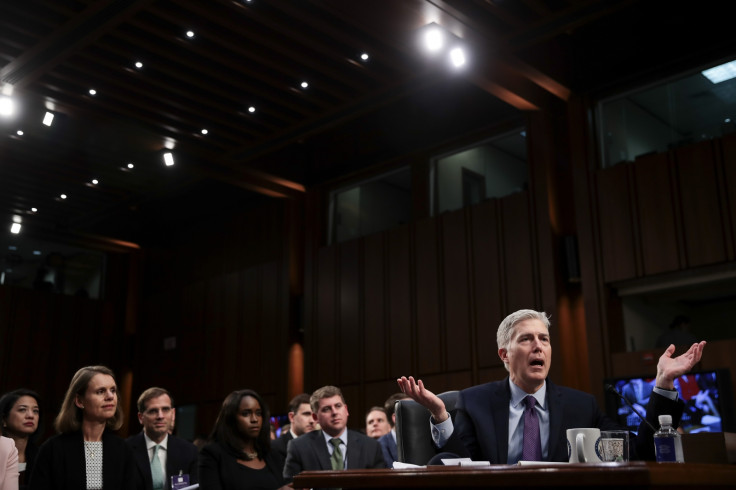 With his views on abortion being a hot-button topic, Gorsuch was asked whether he had made any deals with President Trump on overturning Roe v. Wade — the landmark Supreme Court decision that gives women in America access to abortions.
Gorsuch remained adamant that he had only discussed the divisive nature of the ruling and remained impartial on future plans.
When Senator Lindsay Graham asked Gorsuch what he would have done had Trump approached him to ask to overturn the ruling, he replied "Senator, I would have walked out the door, that's not what judges do."
Sticking to his independent credentials, Gorsuch only seemed to crack at one moment. When asked by Senator Sheldon Whitehouse whether a $10m political campaign backing his nomination was "any cause of concern" to the judge, Gorsuch replied: "There's a lot about the confirmation process today that I regret. A lot."
In the wake of the Director of the FBI, James Comey, confirming that the agency is examining possible links between members of Trump campaign and the Russian government, outspoken Massachusetts Senator Elizabeth Warren tweeted that Gorsuch's nomination should be put on hold.
"Is the Senate really going to pretend there's no cloud over @realDonaldTrump & move on w/ the Gorsuch nomination like things are normal?" Warren wrote.
"The FBI Director testified @realDonaldTrump's campaign is under investigation for collusion w/ Russia. Lifetime court appointments can wait," she continued, referring to the fact that Supreme Court Judges hold the seat for life or until they choose to retire.