Kenya's political turmoil – which started with a disputed election in August 2017 – became even more chaotic today (30 January). Opposition leader Raila Odinga swore himself in as "the people's president" in a mock inauguration ceremony in front of a huge crowd of tens of thousands of his supporters in Nairobi.
Odinga's supporters insist that he, not President Uhuru Kenyatta, is Kenya's legitimate leader, as Kenyatta's election was neither free nor fair.
"Today is a historic day in the history of Kenya," the 73-year-old Odinga , declared, holding a Bible over his head. Later, he updated his Twitter profile to call himself "President of the Republic of Kenya".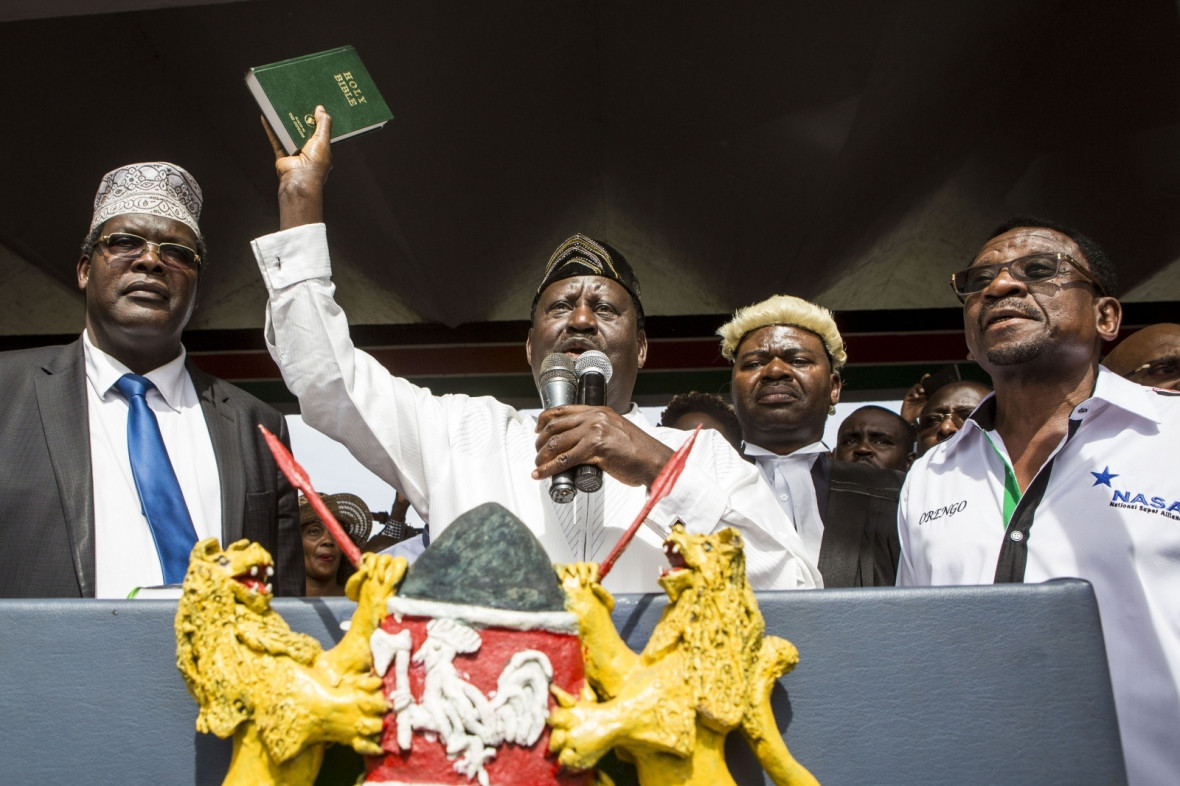 Security forces made no move to stop the ceremony, which authorities had said would be treason, but the government later declared the opposition National Resistance Movement a criminal group, paving the way for potential arrests.
The government suspended radio stations and live transmission of the country's top three TV channels during the mock inauguration. Rights advocates accuse President Uhuru Kenyatta's administration of violating constitutionally guaranteed freedoms including those of assembly and expression.
Odinga said his ceremony was a step toward establishing a functioning democracy in Kenya. "We are seeing the return of an authoritarian, imperial presidency in our country and rule by fiat, and this must be resisted," he told the Kenya Television Network ahead of the ceremony.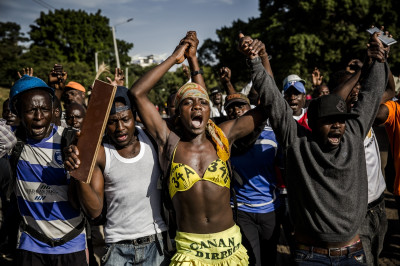 The mock inauguration came after months of political uncertainty. Kenya's Supreme Court nullified the original August election after Odinga claimed that hackers infiltrated the electoral commission's computer system and changed results in favour of Kenyatta. The ruling was the first time a court had overturned a presidential election in Africa.
The court cited irregularities and illegalities and said it ruled against Kenyatta because the electoral commission refused to open its computer system for court scrutiny.
The court ordered a fresh election in October, which Kenyatta won as Odinga boycotted it, claiming a lack of electoral reforms.
Last week the opposition released what it called "authentic" election results showing Odinga won the August vote, but it refused to say how it obtained the information from the electoral commission's computer servers. The electoral commission called those results "fake".
The government-funded Kenya National Commission on Human Rights has said at least 92 people were killed and dozens of others were sexually assaulted during the months of election turmoil. Most were opposition supporters.