At least four people have been killed in a suspected chlorine gas attack in the Syrian city of Aleppo on 11 August. The gas is believed to have been dropped on the city alongside barrel bombs.
Hamza Khatib, the manager of Al Quds hospital in Aleppo, told Reuters that the hospital had recorded four deaths from gas poisoning and 55 injuries. He said that seven people were receiving hospital treatment after the attack.
Syria Rebel Defence, a rescue service operating in rebel-held territory in the city, said that it had recorded three deaths and 22 injuries.
The Britain-based Syrian Observatory for Human Rights, which monitors the conflict, said that a woman and her children had died of suffocation in the attack.
The city in the north of the country is divided between government-held and rebel-controlled areas.
Rebels staged a major attack on Friday to break out of encirclement by forces loyal to President Bashar al-Assad in the east of the city. Rebel groups have been under siege for a month, with regime forces supported by Russian air strikes.
Russian forces said on 11 August that it would suspend military action to allow humanitarian aid to civilians in the city.
Rebel news portal the Aleppo Media Centre has published a photographs of what it claims are victims of the gas attack. It shows children and men sitting in a hospital wearing emergency breathing apparatus.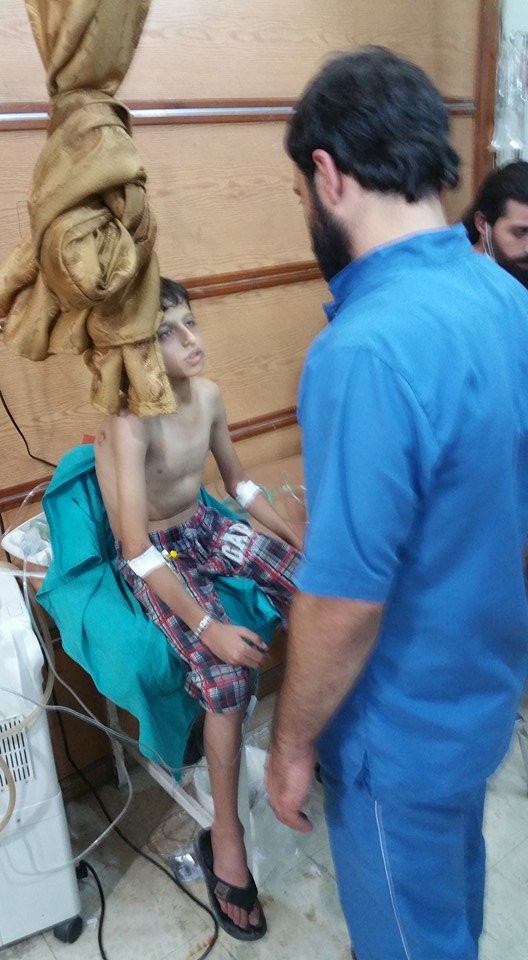 Both rebel groups and government forces have denied using chemical weapons, however in 2014 the United Nations found that government forces used sarin gas in Eastern Ghouta, killing an estimated 1,429 people.
The government has been used of using chlorine gas attacks several times then, with Syrian civil defence workers claiming in December, 2015, that regime forces were responsible for 35 chlorine gas attacks since March.