David Cameron dismissed calls from more than a dozen MPs to apologise for his comments describing those who are against launching air strikes in Syria as "terrorist sympathisers". During his speech arguing for bombing Syria in order to defeat Islamic State (Isis), Cameron said he will "respect people who've come to a different view" from the government ahead of the vote later today (2 December).
The comments arrived after Cameron was heavily criticised for reportedly telling Tory MPs they should not be "walking through the lobbies with Jeremy Corbyn and a bunch of terrorist sympathisers".
Labour MP Caroline Flint was the first to ask Cameron whether he would be willing to remove or apologise for the remark, described as a "contemptible and desperate slur" by the opposition party.
Cameron responded: "I couldn't be clearer in my opening remarks: I respect people who disagree... and I respect we are all discussing here how to fight terrorism, not whether to fight terrorism." Lib Dem MP Tom Brake, who said he would be backing Cameron and support launching air strikes in Syria, also asked Cameron to apologise for the comments as well as give assurances on how to avoid civilian casualties.
Alex Salmond, the SNP MP for Gordon, also asked Cameron to apologise as "I've examined that list [of opposing MPs] very carefully and I cannot identify a single terrorist sympathiser among that list. Will he now apologise for his deeply insulting remarks?"
Cameron once more dismissed the inquiry from Salmond, adding he has "made very clear this is about how we fight terrorism and there is honour in any vote that honourable members make".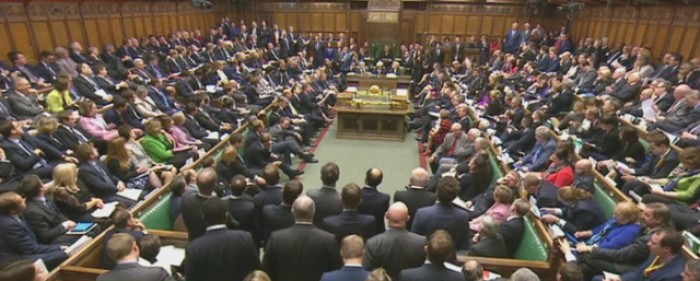 Gislea Stuart, Labour MP for Birmingham Edgbaston, offered Cameron some "motherly advice" to the prime minister and suggested if he "just now got up and said 'whoever does not walk through the lobby with me is not a terrorist sympathiser', [he would help himself]?" to which Cameron replied he "couldn't be more clear" that any MP's decision will be done "with honour".
Elsewhere John Woodcock, a pro-air strike Labour MP, Labour's Emily Thornberry and the SNP's Tasmina Ahmed-Sheikh also called on the PM to apologise for his "terrorist sympathisers" comments during the opening exchanges, which threatened to overshadow the marathon 10-hour House of Commons debate
During his statement in the House of Commons, Jeremy Corybn also gave Cameron the opportunity to apologise. He said: "For all members, taking a decision that will put British service men and women in harm's way and almost inevitably lead to the deaths of innocents is a heavy responsibility. It must be treated with the utmost seriousness – and respect given to those who make a different judgement about the right course of action to take.
"Which is why the Prime Minister's attempt to brand those who plan to vote against the government as 'terrorist sympathisers' both demeans the office of the Prime Minister and undermines the seriousness of the deliberations we are having today."
Cameron them remained in his seat after the Labour leader offered him the chance to stand and apologise to MPs opposing air strikes. At least 110 MPs from six different parties have signed up to an amendment seeking to block air strikes, headed by Tory John Baron and the SNP's Westminster leader, Angus Robertson.
Speaking to MPs about their choice in the vote, Cameron said: "We face a fundamental threat to our security. Isil have brutally murdered British hostages, they have inspired the worst terrorist attack against British people since 7/7 on the beaches of Tunisia, and they have plotted atrocity after atrocity on the streets here at home.
"Since November last year our security services have foiled no less than seven different plots against our people. So this threat is very real and the question is this: Do we work with our allies to degrade and destroy this threat and do we go after these terrorists in their heartlands from where they are plotting to kill British people, or do we sit back and wait for them to attack us?"