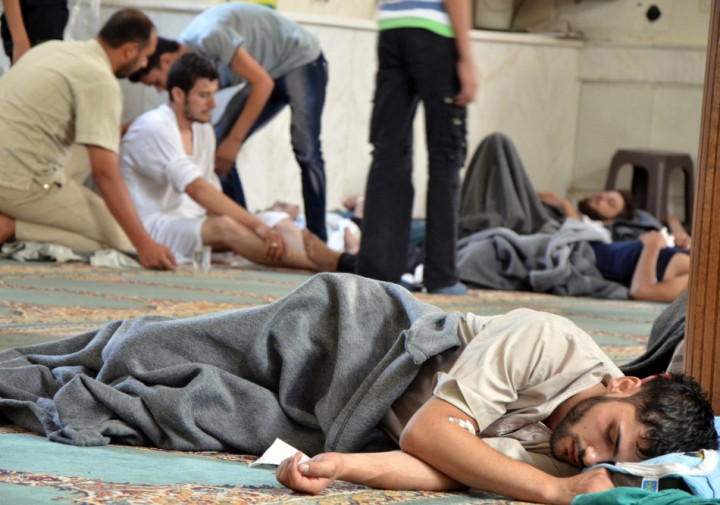 Britain's government says it has a legal basis to take military action against Syria even if the UN Security Council blocks its draft resolution.
A military intervention in response to the alleged chemical attack in eastern Ghouta on 21 August that killed at least 350 people would be justified under the doctrine of humanitarian intervention, according to a statement about the government's legal position.
The three conditions for a proposed action against Syria are evidence of extreme humanitarian distress on a large scale. Furthermore, there is no practicable alternative to the use of force and the use of force must be necessary and proportionate to the aim of relief of humanitarian need. It must also be limited in time and scope.
In addition to the legal framework for intervention, Britain's joint intelligence committee (JIC) has published intelligence material suggesting a "regime culpability" in last week's attack.
After the assessment of video footage attributed to the attack in the outskirts of Damascus, the committee said it is consistent with the use of a nerve agent such as sarin, and not consistent with the use of a blister or riot control agent.
The JIC said that it is not possible for the opposition to have carried out a chemical attack on that scale. According to its report: "The regime has used CW on a smaller scale on at least 14 occasions in the past. There is some intelligence to suggest regime culpability in this attack. These factors make it highly likely that the Syrian regime was responsible."
Jon Day, the chairman of the JIC, wrote to prime minister David Cameron: "We have assessed previously that the Syrian regime used lethal CW on 14 occasions from 2012... Unlike previous attacks, the degree of open source reporting of CW use on 21 August has been considerable. As a result, there is little serious dispute that chemical attacks causing mass casualties on a larger scale than hitherto (including, we judge, at least 350 fatalities) took place."
READ:
Syria Ghouta Gas Attack 'was Assad Revenge' [VIDEO]
Syria Ghouta Gas Attack: Obama 'Not Seeking Regime Change'
Syria Ghouta Gas Attack: West is Monkey with a Grenade, Says Russia [VIDEO]
Syria: US Asks Greece for Military Base Access
Ghouta Massacre: Syria will Become 'Another Vietnam' if West Attacks [VIDEO]