Billions of dollars have been pledged as world leaders gathered at a conference in London with the international community seeking $9bn (£6.2bn) in new aid money to help with the Syrian refugee crisis.
It is a joint initiative by the UK, Germany, Norway, Kuwait and the United Nations, the event involved representatives from up to 20 countries, including the leaders of Russia and Iran, German Chancellor Angela Merkel, and the UN secretary general, Ban Ki-moon.
The EU has pledged over $3.3bn (€3bn; £2.3bn), Germany $2.6bn, the UK $1.7bn and the US $925m. However, it has been overshadowed by the suspension of peace talks in Geneva.
The conference also comes amid a backdrop of criticism across Europe over how the continent is dealing with the refugees coming from Syria and in particular, Britain's contribution to providing them with a safe haven.
At a public meeting in Walthamstow, north east London on Wednesday (3 February), former shadow home secretary and Labour chair of its refugee task force, Yvette Cooper, called on the British government to support the amendment in the House of Lords proposed by Lord Alf Dubs, who was saved from the Nazis on the kinderstransport, to take in 3,000 unaccompanied refugee children from within Europe.
She added there needed to be "cross-party consensus" to deal with the number of refugees coming from Syria. Earlier in the week, she criticised shadow chancellor John McDonnell's comments that the refugee crises and mass migration, will make open borders "inevitable", suggesting a lack of consensus within Labour itself.
However she told the IBTimes UK that having border checks was compatible with managing the Syrian refugee crisis.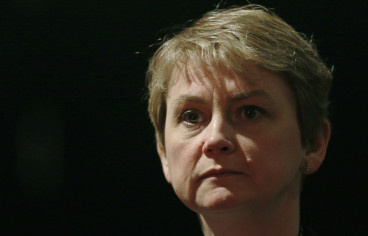 "You can have a big debate about what controls you need, about levels of migration and Labour has to be part of that really important debate, but you also have to have to treat refugees and asylum separately.
"You have to have border controls besides sanctuary because of the sorts of challenges we face in the future. I think border checks will become more important in the future which is why I think Schengen is not working. So it is not surprising that other countries have reintroduced border checks and actually I think that is what is going to have to happen across Europe, especially if you are going to deal with child exploitation.
"The problem with the Government's approach, is that their net migration target includes refugees and I think that is immoral, because you should not have people who are fleeing persecution be included in the net migration target," she said.
Prime Minister David Cameron announced proposals from the Department for International Development (DFID) that would offer trade deals and cheap credit to countries hosting refugees such as Jordan.
It comes in addition to the pledge by the prime minister to double existing aid to Syrian refugees, to £2.3bn, an announcement that was welcomed by Cooper. Germany also pledged €2.3bn (£1.75bn, $2.5bn) to Syria by 2018, including €1.1bn this year, according to Reuters.
However, the suspension of Syrian peace talks in Geneva are threatening to overshadow the donor conference.
Turkey's President Recep Tayyip Erdogan said the talks were pointless while Russian airstrikes continued and he added that it was unlikely whether talks could resume in three weeks, Zaman reported.
"Russia continues to kill people in Syria. Could there be such a peace gathering? Could there be such peace talks?" Erdogan said in a speech in Peru, according to Zaman.