The Syrian Army has declared a unilateral, three-day cease-fie for the entire country, coinciding with the start of Eid al-Fit . The truce is to expire at midnight on Friday 8 July, according to a state TV report.
Eid marks the end of the Islamic holy month of Ramadan and is a time of feasts and fun, presents and parties. Children in rebel-held areas of Syria were able to take advantage of the ceasefire by celebrating Eid out on the streets – even if sometimes their games looked like they'd been copied from the violence they'd known all of their lives.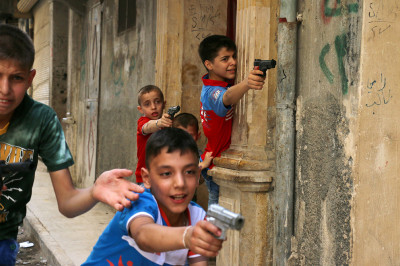 This is the first time Syrian authorities have declared a blanket truce for the entire country. The last truce — a high-profile "cessation of hostilities" brokered by the United States and Russia — was declared on 27 February, but excluded militant groups such as Islamic State and the Nusra Front.
For weeks, that truce sharply reduced violence in much of the country. However, the exclusion of areas under the militants' control opened the door for disagreements over who else was considered a terrorist group and would therefore be excluded from the cease-fire. The government of Bashar al-Assad considers all armed opposition to be terrorists.
The February cease-fire finally collapsed with a government offensive in the northern province of Aleppo, where a coalition of armed opposition groups has strongholds and also cooperates with the Nusra Front.