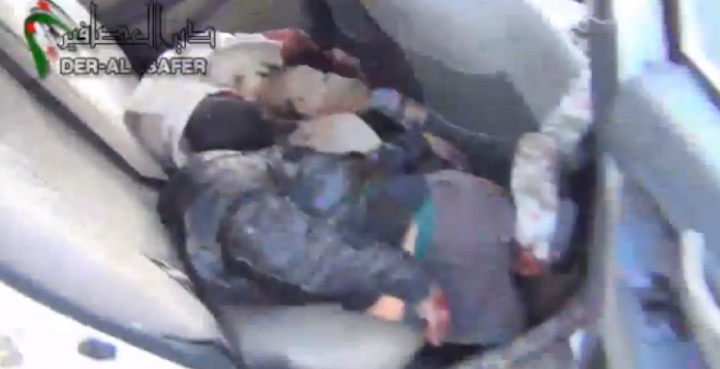 Ten children have been killed in Syria by a cluster bomb dropped on their playground by forces loyal to Bashar al-Assad, Syrian activists have claimed.
A graphic video posted on YouTube appears to show several dead children covered in blood in the village of Deir al-Asafir, east of Damascus.
The footage shows bodies being dragged from the rubble. Grieving adults and cries of "Allah akbar" - God is the greatest - can be heard.
According to reports, the playground was bombed by a government MiG fighter. "None of those killed was older than 15 years old," Abu Kassem, an activist in Deir al-Asafir, told Reuters.
Another 15 people were injured in the bombing, according to Kassem. Sevently cluster bomblets were reportedly found around the scene.
He denied that rebel fighters were hiding in the village but admitted that some groups operated in the area. The authenticity of the video could not be verified.
Earlier in October, Human Rights Watch reported that Assad was bombing Syrian towns with Soviet-made cluster bombs.
The New York-based watchdog said it had collected "mounting evidence" showing that Assad's army was using "high-explosive, fragmentation, and even improvised "barrel" bombs" as part of an intensifying air campaign against rebel-held areas.
Syria denied possessing cluster booms and Russia has said that it does not supply them.
Russian prime minister Dmitry Medvedev maintained, however, that Moscow had the right to supply weapons to Syria's "legitimate government".