At least 71 people are now known to have been killed in two explosions south of the Syrian capital Damascus, observers say. Some 42 Shia militants loyal to Syrian President Bashar al-Assad are among the dead after two Islamic State (Isis) suicide bombers struck a bus station and a military building near the Shia shrine of Sayyida Zaynab on 31 January.
The UK-based Syrian Observatory for Human Rights said 29 civilians, including five children, were also killed in the attack. Some witnesses at the scene reported hearing a third explosion, although this has not been independently verified.
Earlier, Syria's Interior Ministry said 110 people were wounded from the blasts, with several reported to be in critical condition. The European Union said the deadly attack was an attempt by IS (Daesh) to derail peace talks between the Syrian regime and opposition groups in Geneva.
"While some signs of hope arrive from Geneva, today we mourn new victims in Syria, murdered by the same who are trying to kill any perspective of peace," said Federica Mogherini, EU high representative for foreign affairs and security. "The attack near the Sayyida Zainab shrine is clearly aimed to disrupt the attempts to start a political process."
Geneva talks
The High Negotiations Committee (HNC), a body comprising main Syrian opposition groups and factions, said it was encouraged to participate in talks after speaking with UN mediator Staffan de Mistura in Geneva on 31 January.
The group had earlier threatened to boycott the talks in Switzerland unless regime forces ceased air strikes and lifted sieges of rebel-held towns, but changed its mind at the last minute after receiving assurances that a list of its humanitarian demands would be met.
"De Mistura made them a proposition, and that's tempting them to enter the negotiations. They are very prudent," an unnamed Western diplomat told Reuters.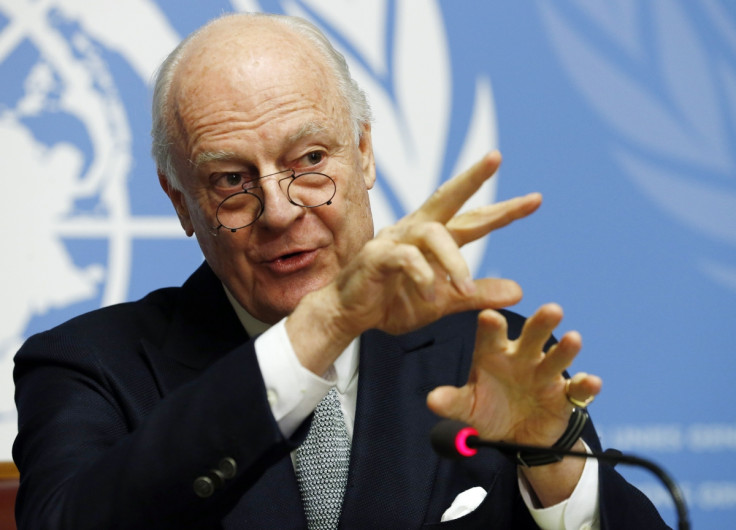 The HNC is reported to have submitted a list of 3,000 Syrian women and children being held in government prisons it wants released. "They want tangible and visible things immediately. Things they can give to their grassroots," the source said.
"Certain things aren't possible immediately like the end of the bombings, but the easiest is the release of civilians, women and children."
Meanwhile, the chief negotiator of the Assad regime's delegation at Geneva, Bashar al-Jaafari, said the Sayyida Zaynab attack was proof that the opposition had links with terrorist groups. "This confirms what the Syrian government has said over and over again – that there is a link between terrorism and those who sponsor terrorism from one side and some political groups that pretend to be against terrorism," he was reported as saying.
The UN-brokered Geneva talks will prioritise a country-wide ceasefire in Syria, delivering humanitarian aid and halting the threat posed by IS. The negotiations will start with proximity talks, with UN diplomats travelling back and forth between the rival delegations in separate rooms, and are expected to last for six months.
Previous efforts to find a political solution to the bloody five-year conflict have broken down due to preconditions demanded by both sides.