Syria: Female Jihadists set up anti-Assad training camp in world's oldest Byzantine church to 'empower women'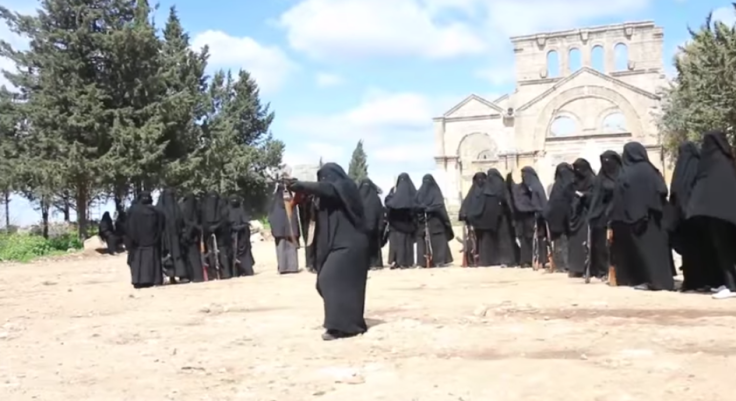 A group of Syrian female jihadists has apparently established a training camp in the world's oldest Byzantine church near Aleppo (Darat Izza)"to empower women to be the same as men" in the fight against embattled president Bashar al-Assad, according to a video that emerged online.
The footage, which could not be independently verified by IBTimes UK, depicts around 45 black-clad AK-47-wielding women marching towards the church of Saint Simeon Stylites, located in northwest Aleppo, while shouting out the takbir (Allahu Akbar) and other religious slogans.
As they reach the Unesco World Heritage site the women are seen standing, military-style in rows and responding to the commander, who then speaks to the camera about the training camp.
"We came out to fight for our religion and our country. We came out to train women to be the same as men, to defend their rights if they are attacked by that evil tyrant [Bashar al-Assad] and his soldiers and whoever follows him," she says.
No affiliation to any jihadist group such as the Islamic State (Isis) or al-Qaeda-linked Nusra front appear in the video.
Another female fighter says "I am now on the outskirts of Aleppo and we have trained 45 sisters in marking and shooting. And after a while, by the will of God, we will be in the heart of Idlib, and after that in Daraa, and after that in the centre of Sham [Syria]."
"We learnt shooting, and assembling weapons technically, and various other things," says another jihadist. "This is so we stand in one line shoulder to shoulder with our sons and the men in the battlefields, because the role of the woman is no less important than that of the man."
The 5th century Church of Saint Simeon is renowned as the site of the pillar of St. Simeon Stylites, a hermit monk who perched himself atop the 15m tall pillar for 37 years, preaching to the crowds two times a day. The remains of the pillar can still be seen today. It was designated as a Unesco World Heritage Site in 2011.
© Copyright IBTimes 2023. All rights reserved.