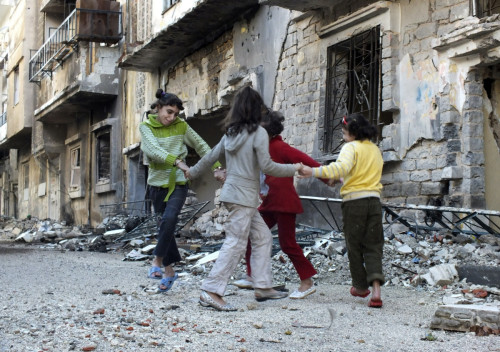 The Syrian regime has agreed to allow civilians in the war-torn city of Homs to leave the town, following a deal struck between President Bashar al-Assad's representatives and opposition groups at the ongoing Geneva peace talks, international mediator Lakhdar Brahimi has announced.
His statement came during the second day of the internationally backed peace talks between the warring sides in the Swiss city.
"What we have been told by the [Syria] government side is that women and children in the besieged area of the [Homs] old city are welcome to leave immediately," the veteran Algerian diplomat, special representative of the UN and the Arab League, told a news conference.
Asked when the decision will be implemented, he said: "Hopefully starting tomorrow [27 January], women and children will be able to leave the Old City in Homs.
"You know that the centre of the city has been under siege for a very, very long time and now I hope that we are approaching a solution for at least the civilians."
However, he insisted it was "too early" to speculate on a comprehensive deal between the two sides, given the hostile atmosphere at the talks.
Following the discussions, Syria's Deputy Foreign Minister Faisal Maqdad said: "If the armed terrorists in Homs allow women and children to leave the Old City of Homs, we will allow them every access. Not only that, we will provide them with shelter, medicines and all that is needed.
"We are ready to allow any humanitarian aid to enter into the city through the ...arrangements made with the UN."
The delegates of the western-backed Syrian opposition group have maintained it is the regime's forces that have been stalling aid convoys in Homs.
Homs, a key central Syrian city, remains a strategic battleground for the rebels and Assad's forces.
Despite the agreement, seen as the first credible outcome of the talks if the decision is implemented, there are more thorny issues including a transitional government. The issue is likely to be discussed shortly.
Opposition spokesperson Louay Safi said: "Tomorrow [27 January] we start talking about transition from dictatorship to democracy. The regime is ... stalling."
Reiterating the Syrian government's position that Assad will not step down, the Syrian deputy foreign minister said: "The president of the Syrian Arab Republic stays until the Syrian people say something else."