The atrocities that 16-year-old Samuel witnessed as he fled war-town South Sudan last year have not destroyed his hopes for a better future.
From neighbouring Uganda, where he and his siblings – one brother and one sister – have been living since last August, Samuel is planning to become South Sudan's new president.
"When I was still young, when I was still with my parents I told them: 'When I grow up, I want to be a pilot'," he told IBTimes UK.
"But my state of mind has changed, because what I see [is that] South Sudan is not having good leaders so I want to change [that] and I want to be maybe a leader. I want to be the new president."
Like Samuel, South Sudan is very young. In fact, it is the world's newest nation. Like Samuel, the country nurtured hope for a peaceful and brighter future after years of civil war eventually led to its breakaway from Sudan in 2011.
But those hopes were soon crashed as the country descended into civil war in 2013.
South Sudan is today known for its brutal conflict, which killed thousands and sparked what the UN deemed as "Africa's worst refugee crisis" of recent times.
Samuel, his bother and his sister became orphans during the war. When they decided to flee to Uganda, they witnessed people being killed.
The siblings now live in the Bidi Bidi refugee settlement – the world's largest refugee camp, sheltering more than 270,000 people – with their foster family, whom they met along their journey to the neighbouring country.
"I don't want to go back to South Sudan now, because if I go there, if there is fighting, we might get killed," he explained.
"My life with my foster family is going well. I go to school and my siblings also go to school. What I like about Uganda is the education, it is so good."
An estimated 100 children fleeing the conflict in South Sudan cross into Uganda every day. The majority of them are unaccompanied, they have been separated from their parents and their physical and mental health is at risk due to the traumatic events they have witnessed.
Their journey is neither easy nor safe. Children are subjected to deadly ambushes, rape and violence along their journey towards safety.
Some of them witness their family being killed by opposing forces, many others are tortured and forced to take part in fighting.
When these children finally cross into Uganda, they are deeply traumatised and unable to feel safe in the hosting country.
"All of the children who come here face some kind of trauma. When they come here, everything would be resolved in a war-type method and even a rumour could spark violence," Brenda Madrara Adrako, World Vision's child management facilitator at the Bidi Bidi refugee settlement in northern Uganda, told IBTimes UK.
World Vision is one of the charities helping the Ugandan government cope with the influx of refugees.
Through so-called child friendly spaces, it has provided about 42,000 children with safe areas where they can play and cope with trauma caused by war and abandonment.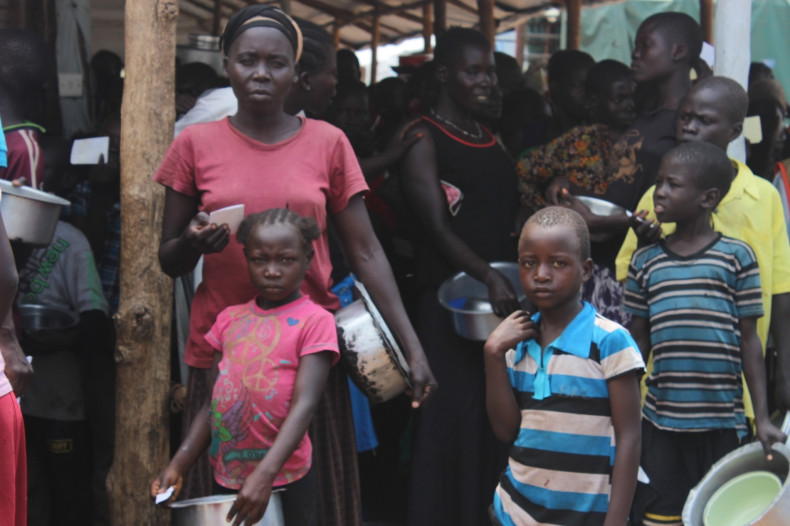 South Sudan's war explained
The conflict in South Sudan erupted in 2013 when President Salva Kiir, of the Dinka ethnic group, fired his deputyRiek Machar – from the Nuer group. Machar then became a rebel leader.
Fighting between rebels and government troops has killed an estimated 50,000 people, amid allegations of crimes against humanity committed by both sides, including rape, torture and the use of child soldiers.
The conflict has progressively continued along ethnic lines, with tit-for-tat violence targeting Dinkaand Nuer tribes, prompting the UN to repeatedly warn the country is on the verge of a Rwanda-style genocide.
Kiir and Machar have agreed on several peace deals – the last of which was signed in August 2015 – but have failed to control their troops, who have broken every ceasefire since 2014.
Earlier this year, the government declared a unilateral ceasefire to promote peace. However, in May, rebels loyal to Machar rejected the government's offer of dialogue.
---
IBTimes UK travelled to Uganda courtesy of Word Vision UK, one of the NGOs helping the Ugandan government cope with the refugee influx. Fore more information about the charity's work, please visit their website.
---