The Syrian government team taking part in peace negotiations has accused the opposition delegation of holding the ongoing talks "hostage" in the final hours. The representatives of Syrian President Bashar al-Assad have also warned that they would hold the rebel delegation responsible if the talks fail.
The United Nations-brokered negotiations between Assad's officials and a fragmented group of representatives from rebel forces seeking the president's ouster began on 23 February in Geneva,.
Syria's envoy to the UN, Staffan de Mistura, who is mediating the talks, had said earlier that he was not expecting a breakthrough in the war-torn nation through this round of talks, but hoped it would set the momentum for brokering peace. Syria has been ravaged by the civil war that broke out in 2011.
Following over a week of indirect as well as face-to-face talks between the opposing parties, lead government negotiator Bashar al-Jaafari told reporters on Thursday (2 March) that they "must not permit the Riyadh platform to hold the Geneva talks hostage", referring to the opposition delegation which is being led by an umbrella group formed in the Saudi capital, the High Negotiations Committee.
He accused the committee of not allowing the unification of smaller opposition groups and also said that "some members of the Riyadh delegation include members of armed terrorist groups".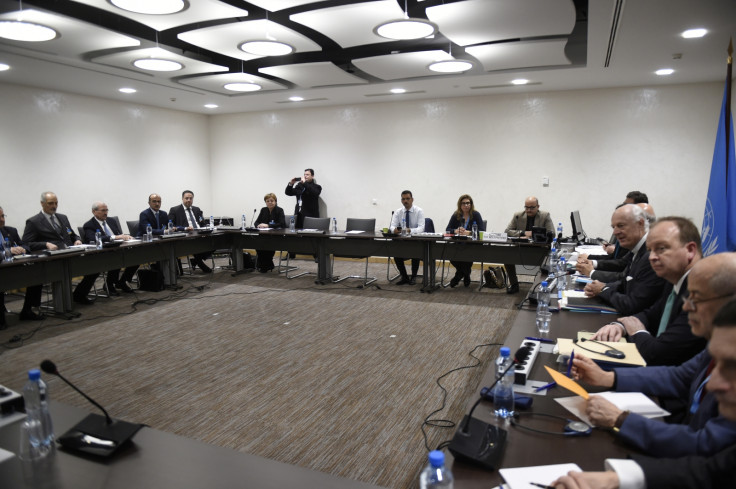 The main sticking points in the ongoing negotiations are the composition of the opposition delegation and the potential inclusion of "terrorism" as a core topic of discussion, Al Jazeera wrote.
The UN envoy is seeking to broker peace through UN Security Council Resolution 2254 that allows political transition in a country based on three "baskets": accountable governance, a new constitution and UN-supervised elections. However, Assad's representatives are insisting on the inclusion of a fourth basket on "anti-terrorism".
"We discussed counter-terrorism as a basket on equal footing with the other baskets," Jaafari said, adding: "Those who reject discussing this basket are the so-called Riyadh delegation... the Moscow and Cairo [platforms] have agreed."
Lead opposition negotiator Nasr al-Hariri, on the other hand, dodged questions on the issue during a press conference soon after Jaafari's.