Syria refugee crisis: On the streets of Istanbul, Syria's 'lost generation' battles to survive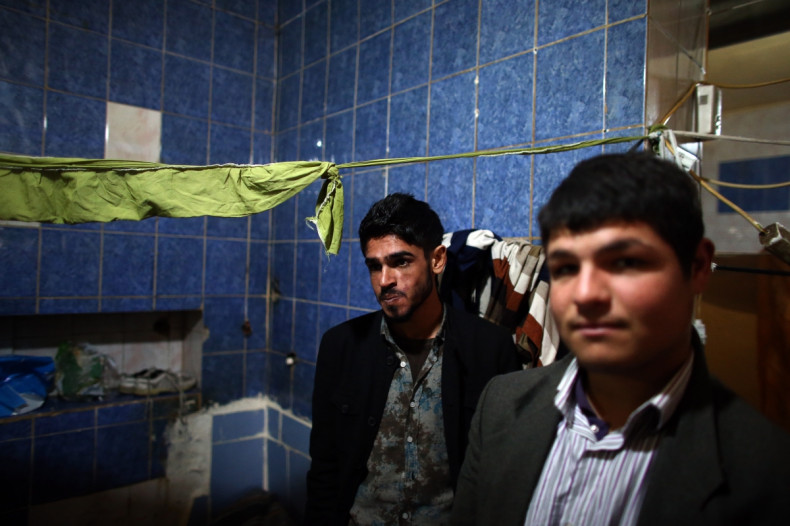 In Taksim Square, 10-year-old Syrian Ruhad Mohammed hawks mineral water for one Turkish lira a bottle. Ruhad fled Aleppo with his family two years ago and now makes up one of the 2.6 million Syrian refugees living in the country. He has been working on the streets of Istanbul for 11 months and not been to school in three years.
Ruhad carries 20 bottles on his shoulder, politely approaching tourists as they pass, and he takes his job seriously: "I work to help my family," he explains. His mother and two brothers, who are 15 and 20, work in a restaurant and he sells water every day, staying home only when it rains. "I like selling water but it makes me tired. If there is work, it makes me tired; but if there is no work, I feel sad," he says.
There are hundreds of Syrian children working in the busy central square of the city, some selling water, others packets of tissues, birdseed and trinkets to tourists. Across Turkey, tens of thousands of Syrian children work instead of attending school, a lost generation of young Syrians that have fled Syria's five-year-long civil war.
Officially Turkey forbids Syrian refugees from working and, as a result, when they do find illicit employment, bosses take advantage, paying rock bottom wages and no benefits. As a result, all members of the family tend to need to work. Ruhad can make $10 (£7) on a good day and on average takes home between $200 and $350 per month. His father buys the water in bulk from a market 10 minutes away from the square and Ruhad sells it at double the price.
"I give most of the money I make to my parents, but when I make a lot, I take five lira and go to an internet café in the evening with my friends to play video games," he says.
But he misses school: "In Syria, I was in third grade. In Turkey, I would be in sixth grade, but I can't go to school here. I miss my school and studying and playing with my friends in Syria… but here I have to work," he says.
Asked what job he would like to do when he's older, his response is immediate: "A doctor."
Ruhad's father, Hussain Mohammed, regrets that his children have to work rather than go to school, but after he was fired from his job in a restaurant after a work-place injury he has been unable to find employment. In Aleppo, Hussein owned a small tobacco shop but it was destroyed in the fighting.
"My wife and children were having a good life in Syria and now they have to work very hard. I want them to have a better life in the future and for that reason we will leave Turkey soon," he explains.
In nearby Gezi Park, Anas Hanan, sits smoking a cigarette. Hanan, 30, fled Aleppo when his carpet shop was destroyed and has been in Istanbul for two years. He worked in a clothing factory until six months ago when he quit in the face of 13-hour days and salaries half the rate of Turkish workers doing the same job.
"It's a hard life here. There's no future here. I can't work and study, which I want to do – you either do one or the other. The Turks have a tough mind. To begin with they treated us well, but since so many Syrians have come, their attitude has changed. We're like a virus now there are thousands of us – that's how they see us. If I were them, I would feel the same though," he says.
Other Syrians here in Istanbul are even worse off. Slumped in a doorway between two bars in the trendy area around Galata Tower, two Syrian brothers sit begging for money. Ali Jumu, 12, and his brother Halil, 11, came to the city three years ago with their grandmother.
They lived with her until one month ago when she died. They got chucked out by their landlord and now they live on the streets. Their hands, faces and clothes, including adult jackets far too big for them, are filthy. "We're alone here," Ali says.
"I feel sad living here, yes. I feel angry at people," he says.
"My father and mother brought us here with our grandmother three years ago," Ali explains, "and then went back to Syria". The two brothers make 15 to 25 Turkish lira a day and sleep in the street. They've tried and failed to contact their parents in Aleppo. "We called them but there was no answer. No one helps us here, we look after each other. The police don't help us but they don't bother us either — they just ignore us," he says.
For Turks, the influx of Syrian refugees has been challenging. The Turkish manager of a bar close to where Ali and Halil are begging, who declined to be named, says that Syrians like the two brothers make money from tourists and that most had others supporting them.
"Most have families, and they're begging to support them'. 'It's a job for them," he says. But, suddenly sympathetic, he adds: "Sometimes at the end of the night, we let the children sit with us and give them tea if they're still here."
---
Oscar Webb is a freelance journalist based in Istanbul. Adel Rawas contributed to this report.
---