Islamic State (Isis) is believed to take home as much as $50m (£33m) per month from selling crude oil from the numerous wells it controls in Iraq and Syria, with smugglers exploiting routes into Turkey and beyond that were first carved out during the US sanctions on the regime of Saddam Hussein.
It is believed oil sales remained the group's largest single source of income and was a key reason the group had been able to maintain power over the territory in Iraq and Syria. IS sells cut-price oil to curry favour with powerful Sunni tribes in eastern Syria and western Iraq, and uses the excess cash to buy weapons and pay fighters.
Turkey has angrily denied that IS was smuggling oil through its territory after Russia published evidence that it said showed trucks entering the country. But in reality, there is little Turkey can do to stem smuggling routes that have been in operation for more than two decades. Many of those inside IS's oil industry were former officials under Hussein and possess excellent connections and established networks.
Associated Press reported that US officials have also been in talks with Turkey over energy infrastructure heading the other way, with equipment for extraction, refinement, and transport and energy production being smuggled into IS-held areas of Syria.
An official said IS management of its oil fields was "increasingly sophisticated" and has bolstered the group even as US air strikes take out key figures and infrastructure.
Existing network in Syria
AP suggested IS oil production in Syria currently stands at 30,000 barrels per day, while between 10,000 and 20,000 were sourced from fields near Mosul. IS sells oil on the black market at between $10 and $35 per barrel compared with $50 on international markets. Meanwhile, a report by the IS's finance ministry, the Diwan al-Rakaaez, showed revenues from oil sales from Syria alone last April totalled $46.7m.
The report put the number of oil wells under IS control in Syria at 253, saying 161 of them were operational. Running the wells were 275 engineers and 1,107 workers, it said. The report covered the month immediately after IS was ousted from a major oilfield near the city of Kirkuk, showing that even the US-backed assaults on IS-held oil fields were not having a major impact on the terrorist oil infrastructure as a whole.
IS was able to step into an already established oil industry in eastern Syria when it began capturing territory in 2014. Most of the wells had been operated by the Al-Furat Petroleum Company, a Royal Dutch Shell affiliate, and produced relatively high-quality crude oil that had a low concentration of sulphur and was relatively easy to process, according to a 2015 report into the IS oil industry.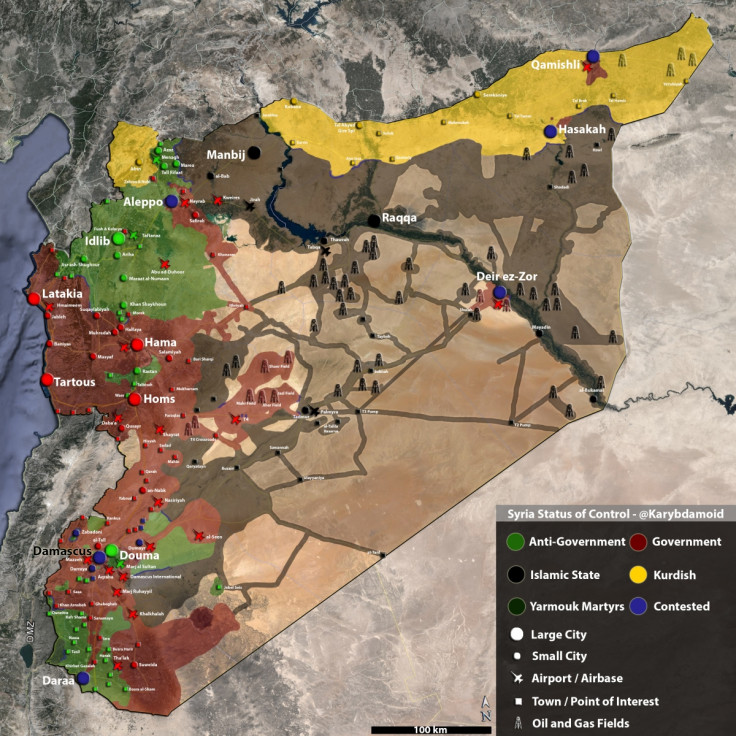 Once the oil was pumped to the surface, it was either lightly refined on site in makeshift, trailer refineries – to be sold on the local market – or loaded into trucks that carried it over the Turkish border. Kurdish and Turkish maintenance crews travel overland under heavy guard to work on the wells and the refineries in IS-held territory, according to the Iraqi officials, while senior officials from Iraq's state-owned, northern-based oil companies have been employed by IS.
A number of detailed reports into the IS oil industry including by the Financial Times and the Guardian have revealed how sophisticated the IS oil smuggling operation is and the network has been raised regularly during the debate in Britain's House of Commons over the increase in air strikes on IS-held positions in Syria following the Paris attacks.
Labour leader Jeremy Corbyn, who opposes the action, called for tougher restrictions on the sale and smuggling of IS oil rather than military action, echoing calls from the UN on 17 November, which urged the Security Council to order that all trucks carrying oil from areas controlled by IS are halted to stem the flow of illicit oil.
It has also buoyed Russia, which has been quick to point the finger of blame at Turkey after the shooting down of the Su-24 jet over Syria in November. Russian state media reported on 2 November that Russian air strikes hit 32 oil complexes, 11 refineries, 23 oil pumping stations, adding the Russian military had also destroyed 1,080 trucks carrying oil products. It said: "These [air strikes] helped reduce the trade of the oil illegally extracted on the Syrian territory by almost 50%."