Yana has been living in an informal refugee camp in Lebanon's Bekaa valley, on the border with Syria, for the past eight months. Earlier this year, due to prolonged starvation and violence in the besieged city of Raqqa, northern Syria, she decided to flee and start a new life in Lebanon.
Yana is among millions of Syrians who have fled to neighbouring countries after the outbreak of Syria's brutal civil war five years ago.
The conflict, which has resulted in the death of hundreds of thousands of people, erupted in 2011 when President Bashar al-Assad deployed government troops to quash anti-government demonstrations in several areas of the country.
Assad refused to step down as violence spread throughout the region. Despite several ceasefires and the intervention of international coalitions, the conflict deepened and fostered the emergence of anti-Assad rebel groups.
In March 2013, rebel forces captured Raqqa, which became the first large city controlled by opposition fighters. One year later, Raqqa fell under the control of the Islamic State (Isis/Daesh) militants, who control large swathes of Syria and Iraq.
A few months later, the US-led coalition started carrying out airstrikes targeting IS near Raqqa and Aleppo.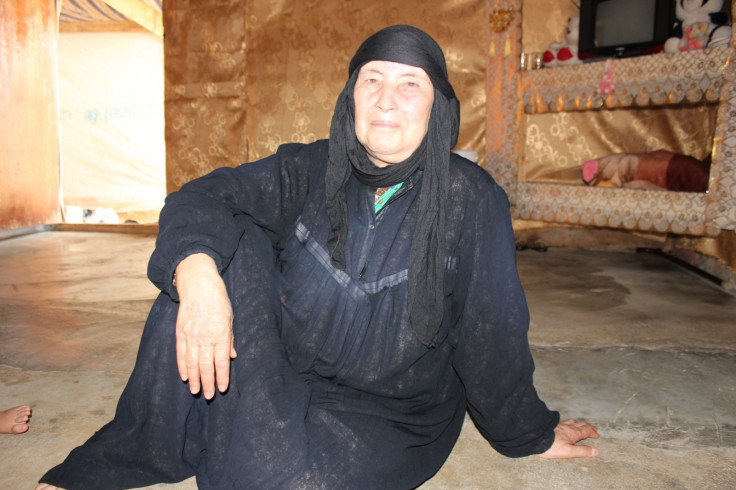 "I am 75-years-old and this is the worst type of violence I have witnessed in my entire life," Yana told IBTimes UK.
"People have been fleeing because of the hunger, because of the bombings, because of the slaughtering. When I left, the situation was very bad, the militants came and they started killing people and everyone feared for their lives and tried to flee."
Yana fled along with some family members. However, as the militants' tight grip on Raqqa did not allow them to freely leave the city, they had to excogitate a plan that would allow them to cross into Lebanon. "We managed to convince militants that we had to undergo surgery in Damascus and they gave us a pass. We said we would come back," she explained.
"We had to walk in the mountains to reach Lebanon. But I am very old and sick and my whole body ached. I could not walk and I kept telling our smuggler to kill me, I told him that I wanted to die there. I took some stones and I gave them to him and told him to hit me in the head, but he refused."
Starvation staved off by eating grass
Yana was relieved when she reached Bar Elias ITS (Informal Tented Settlements) in Lebanon, where she could eat. However, having spent all her life in Syria, she will struggle to start a new life as a refugee in a foreign country.
"Back in Raqqa we were starving and we used to eat grass picked from the ground. Several people died because of starvation, so this is a relief," she explained. "But I miss my family, I miss everything about Syria. The soil of my country is worth the whole world to me. If the situation improves, I will go back."
There is an estimated one million Syrian refugees in Lebanon, as per estimates by the UN refugee agency (UNHCR). Global charity World Vision has been providing assistance to refugees in Lebanon, Jordan, Turkey and Iraq. The charity has warned families are struggling to meet basic needs and several refugees are in urgent need of food and shelter.
A spokesperson for the charity's Lebanese section told IBTimes UK: "In Lebanon, World Vision is assisting Syrian refugees in the water, sanitation, hygiene, food, education and health sectors. The charity also provides psychological support, cash and food assistance to vulnerable Syrian and Iraqi refugees. During winter, the staff distribute blankets, coupons, fuel and other winter items."