Syrian army defeat Isis near Homs as Putin says no 'external influence' should topple Assad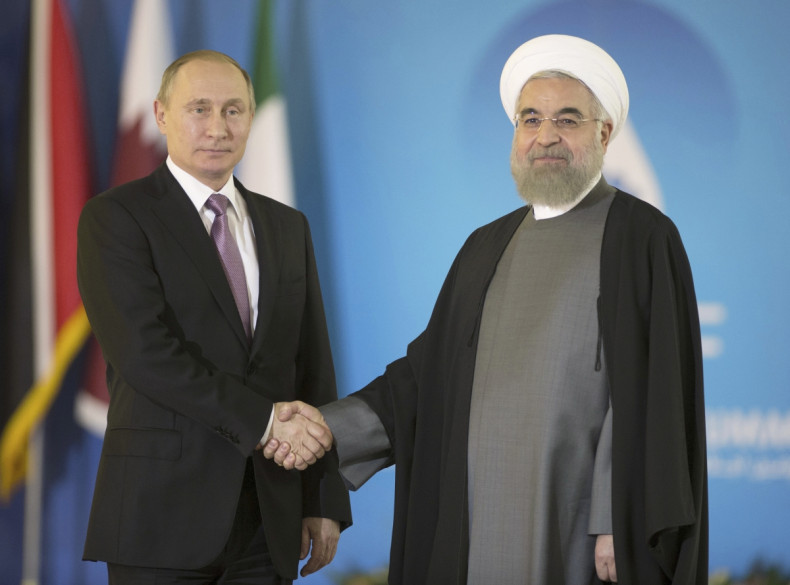 The Syrian army have recaptured a town and a village from Islamic State (IS) jihadists near Homs today (23 November) thanks to Russian warplanes. The news of advancement in the region comes as Russian President Vladimir Putin met Iranian President Hassan Rouhani and Iranian supreme leader Ayatollah Ali Khamenei who agree that no "external attempts" should unseat current Syrian President Bashar al-Assad.
State television in Syria claimed that the defence force took control of Maheen and Hawareen in the southeast of Homs province. Maheen was believed to have been taken over by the extremist militants in October.
In Tehran on Monday (23 November) Vladimir Putin was engaging in his first state visit since 2007 with the IS problem top of the agenda. The Islamic republic is the major Shiite force in the region and Tehran has been involved in conflicts in both Syria and Iraq against IS.
The British-based monitoring group the Syrian Observatory for Human Rights (SOHR) confirmed the Syrian Army's advance, which they said was backed by Russian warplanes and military helicopters. The organisation said that there have been 42,234 airstrikes in Syria since last October.
"The army in cooperation with popular defence groups (pro-regime militias) took control of Maheen and Hawareen in the southeast of Homs province after inflicting heavy losses on Daesh," state television said, according to Al Arabiya. A cease fire had existed previously.
When IS took over Maheen they kidnapped civilians and destroyed ancient Christian sites like those in the ancient city of Palmyra. In Al-Qaryatain, which is just 15 kilometers (nine miles) from Maheen, an ancient monastery was destroyed.
Palmyra, which IS captured in May is also in the Homs province. The city is a UNESCO World Heritage site has been threatened to be razed by the extremists and many plundered ancient artefacts have made their way onto the black market - believed to have been looted from the site.
A number of countries including the UK and the US oppose Assad rule, led by the US who say that he has lost credibility as a leader because of a number of crimes against his own people.
Putin met Iranian President Hassan Rouhani and Khamenei as the Russian leader prepared to address a summit of gas exporting countries. The two nations have provided support to Assad's government since 2011.
Khamenei said that both Iran and Russia will oppose "external attempts" to dethrone Assad and that fresh elections should take place in the war-torn country. Khamenei added that US had a "long-term plan" to dominate Syria and the Middle East.
"This threat should be neutralised wisely and with closer interaction," he was quoted as saying in a statement, according to the AFP. "Syria's president was elected by people of various political, religious and ethnic views in a general election. The US cannot ignore Syrians' vote and choice."