Syrian crisis: Putin-Kerry talks ease tension but no breakthrough in sight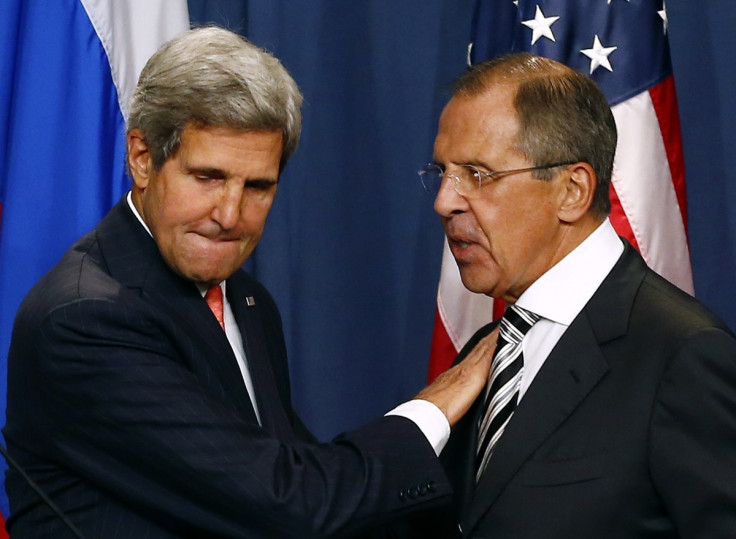 Russian President Vladimir Putin has held talks with US Secretary of State John Kerry in Moscow over a range of topics but the discussions were dominated by the Syrian criss. Though no breakthrough emerged from the three-hour-long talks, Kerry's visit has helped ease simmering tensions between the former Cold War rivals.
Speaking in Kremlin ahead of the talks, Putin jokingly told Kerry: "We need more time to follow you, your movements. I see you need to get enough sleep." He also praised the American diplomat's efforts in trying "to settle a number of very acute problems".
Following the closed-door meeting, Kerry addressed a joint press conference with Russia's Foreign Minister Sergei Lavrov, who also took part in the negotiations. The top US diplomat said both sides were able to find "common ground" on a political transition in Syria and the military strategy against the Islamic State (Isis). Several top delegates from both sides also participated in the discussions.
"We agreed nobody should be forced to choose between a dictator and being plagued by terrorists," Kerry told reporters alluding to Syrian President Bashar al-Assad and Isis, respectively. "We are committed to try to destroy Daesh," he added, using the Arabic acronym for the group.
Kerry went on to say: "Despite our countries' differences, we have demonstrated that when the United States and Russia pull together in the same direction, progress can be made." The talks did not break any new ground though there were indications that Russia was willing to soften its stance on the political settlement in Syria. Washington is determined to remove Assad from power as part of any transition process while Moscow opposes it.
Another lingering concern for Washington is Russia's targeting of the moderate opposition in Syria who have been fighting against Assad. Kerry did not fail to mention this at the press conference, urging Russia to "direct its fire at Daesh".
The foreign ministers also confirmed the upcoming talks by world powers on the Syrian conflict, scheduled for 18 December in New York, would go ahead. Clarifying the position of Russia – which earlier vetoed two rounds of international talks citing pre-conditions – Lavrov told reporters: "Our position is that all must make their contribution both in the anti-terrorist efforts and in promoting the political process.
"But we prefer to do it in a collective format, a format that was formed in Vienna and that involves all key players who can influence this or that way various conflicting parties in Syria, a format that was approved by the United Nations Security Council in a recent resolution," he added. During the lengthy Moscow talks, the two sides also briefly discussed Russia's frosty ties with Ukraine.
© Copyright IBTimes 2023. All rights reserved.