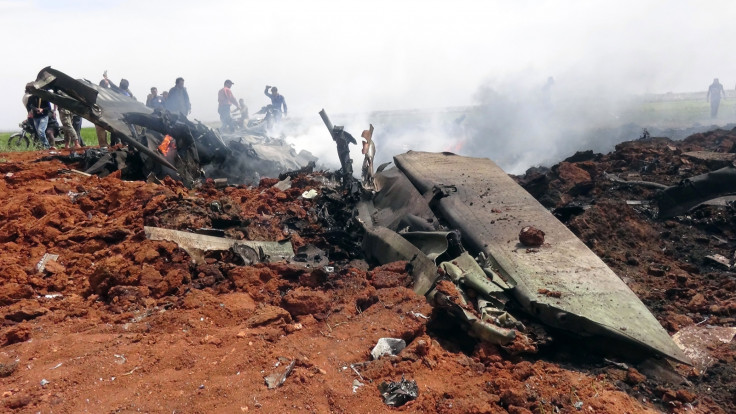 Islamic State (Isis) fighters have shot down a Syrian military plane on Sunday (18 Septmber), according to IS-affiliated news agency Amaq. The plane was reportedly brought down in the eastern city of Deir Al-Zour a day after US-led airstrikes killed at least 62 Syrian government fighters in the city.
"A Syrian warplane belonging to the Syrian regime was brought down when targeted by fighters from the IS (Daesh) in the city of Deir al-Zour," Amaq said in an online statement.
With a ceasefire already on shaky ground following the US strikes, the latest incident is likely to bring about further tension and finger pointing between Russia and the US.
The plane's downing comes hours after Russian military personnel accused the US of trying to strengthen the IS position in the fiercely contested city following Saturday's (17 September) bombing. Syria's Foreign Ministry made similar accusations.
"Five US aircrafts launched fierce airstrike on the Syrian Army positions in al-Tharda Mountain in the surroundings of Deir Al-Zour Airport. The attack lasted for an hour," they said in a statement, according to state-run SANA.
"The facts speak for themselves. This attack is deliberate and the US has plotted it in order to implement its strategy in continuing the terrorists' war against the Syrian army.
"The attack launched by the IS terrorists on the same site and taking control over it proves the correctness of what has been previously stated and highlights the coordination between this terrorist organization and the US."
US Ambassador to the United Nations Samantha Power said the United States has "relayed our regret" for the unintentional loss of life of Syrian forces fighting the Islamic State group in the bombing.
However, she said Russia should be "embarrassed" for issuing a statement suggesting that the airstrike indicated that the U.S. was complicit in trying to help IS.
The Syrian Observatory for Human Rights, which monitors the Syrian conflict, said the pilot of the warplane was killed.