Explosion which wounded 29 in New York was 'intentional', but not terrorism
New York's mayor Bill de Blasio said there are no 'credible threats' to the city.
An explosion, which happened late on Saturday night in the Chelsea district of New York, left at least 29 people injured.
Eyewitnesses spoke of a "concussive wave", shattered glass and flying debris, and people running for their lives.
The blast happened on West 23rd street, in front of a residence for the blind and near a Trader Joe's supermarket.
Witnesses say the explosion happened at about 8.30pm (17 September) and blew out the windows of shops.
"I heard a big boom," Luke McConnell, told the New York Times. "I felt it, like a concussive wave, heading towards me.
"Then there was a cloud of white smoke that came from the left side of 23rd Street near Sixth."
Officials said no evacuations were necessary. The same law enforcement official also told Associated Press that the explosion appears to have come from a construction toolbox in front of a building.
A second device was found on West 27th street, wrapped in a plastic bag. Pictures of the second device show a pressure cooker attached to a wire and a mobile phone. The device was recovered with a bomb disposal robot and taken to the New York Police Department firing range in the Bronx.
Following the discovery of the device, residents were warned to stay away from windows along West 27th street.
Speaking at a press conference, Mayor Bill de Blasio described the explosion as "intentional" and said "injuries are significant but none of the injured are likely to die".
"There is no evidence at this point of a terror connection to this incident," he continued.
"I want to say more broadly there is no specific or credible threat against new York city at this point in time from any terror organisation, so as we are analysing what happened here we have no credible threat at this moment.
"Now I want to be clear, whatever the cause whatever the intention here, New Yorkers will not be intimidated and we are not going to let anyone change who we are or how we go about our lives," he said.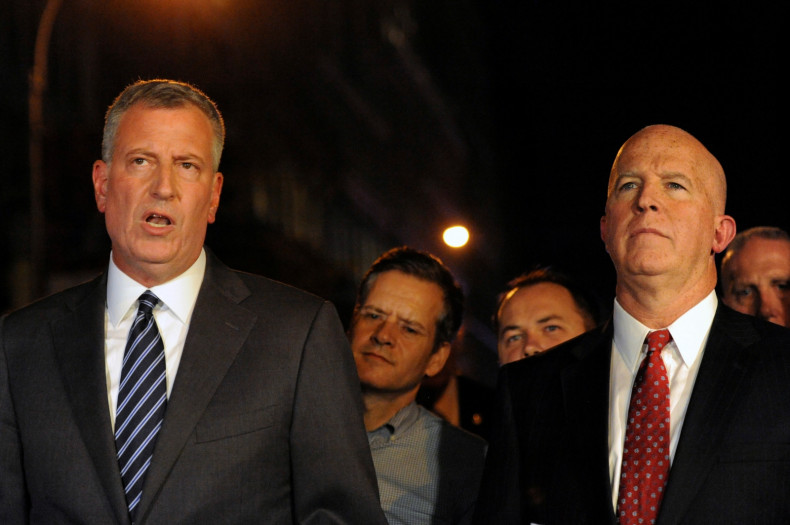 The mayor stressed that New York has "the most advanced anti-terror capacity of any city in this country" and that the incident would be "investigated very carefully".
New York Police Commissioner James O'Neill said, at the same press conference, "the exact nature and cause of this explosion has yet to be determined".
President Barack Obama, who was attending a congressional dinner in Washington, "has been appraised of the explosion in New York City, the cause of which remains under investigation", a White House official said.
"The president will be updated as additional information becomes available," the official added.
Speaking at a rally in Colorado Springs, presidential nominee Donald Trump referred to the explosion saying: "I must tell you that just before I got off the plane, a bomb went off in New York. And nobody knows exactly what's going on.
"We better get very tough, folks. We better get very, very tough."
Hillary Clinton also called the incident as a "bombing" when she spoke to reporters on her campaign jet.
"I've been briefed about the bombings in New York and New Jersey," she said, referring to both the Manhattan blast and the pipe bomb explosion at a New Jersey charity run earlier on Saturday (16 September).
"it's important to know the facts about any incident like this. I think it's always wiser to wait until you have information before making conclusions," she added.