Syria's Single Female Refugees: 'No One Respects Me Because I'm Not With a Man'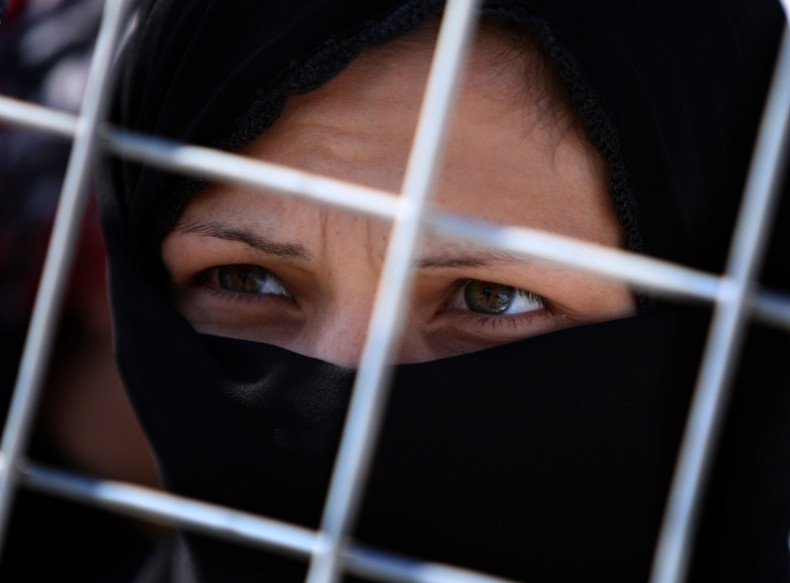 "A woman alone in Egypt is prey to all men," said Diala, who lives in the city of Alexandria on the northern Egyptian coast. Another woman living in Jordan, Zahwa, added that she was harassed by refugees when collecting food coupons. "I was living in dignity, but now no one respects me because I'm not with a man," she said.
Thousands of Syrian refugee women are caught in a "spiral of hardship, isolation and anxiety" after their partners die, are captured or are missing or remain stuck in Syria. The UN agency for refugees, the UNHCR, has revealed that more than 145,000 Syrian refugee families in Egypt, Lebanon, Iraq and Jordan are headed by women. This amounts to one in four Syrian refugee families.
With 2.8 million refugees and millions more displaced internally, Syria has become the largest refugee crisis in the world. Last month, the number of people forced to flee their homes worldwide rose to more than 50 million for the first time since the Second World War, with the increase driven mainly by the conflict in Syria. Since the start of 2014, more than 100,000 Syrian refugees have registered in neighbouring countries every month.
For female Syrian refugees who are single, life in exile has meant becoming the main provider for themselves and their families. Many are wholly dependent on outside assistance. Beyond the pressure of providing basic supplies such as food, women are also subjected to sexual harassment and violence.
In the spring of 2013, Naiwja, 32, fled Aleppo after a car bomb exploded outside her building while her two young children were playing on the street. They survived, but the family decided to escape their country's civil war and start life afresh in Lebanon.
However, when Najwa and her husband separated, she faced more danger as a single woman living in rural Lebanon. She said she had been raped by a neighbour, who at first had offered to pay her rent in exchange for looking after his children.
Nawja's story is not an uncommon one among Syrian refugees living across the Middle East. According to the UNHCR, many refugee women said that taxi drivers, local charity workers or landlords had harassed them or sought sexual favours. Of the 135 women interviewed, 60% said they felt insecure, with one in three too scared or overwhelmed to leave their homes. In total, 95% said they felt their role had changed for the worse.
"They have run out of money, face daily threats to their safety and are being treated as outcasts for no other crime than losing their men to a vicious war. It's shameful," said Antonio Guterres, the UN high commissioner for refugees. "They are being humiliated for losing everything."
While life is difficult for all refugees escaping violence in Syria, women who are separated from their communities are often at higher risk of exploitation, from sexual violence to human trafficking. The problem is exacerbated by weak legal protection, cultural attitudes and a lack of awareness among women of their rights.
Over 150 organisations are providing support and services to Syrian refugee women and their families, but the UN has called for more donors to help women get back on their feet to help alleviate pressure from the countries on the front line of the refugee crisis.
Earlier this week, the EU home affairs commissioner Cecilia Malmstrom appealed to the 28 member states to step up their efforts to resettle Syrian refugees. Syria's neighbours are now hosting three million men and women displaced by the three-year-old civil war, but Europe has accepted fewer than 100,000.
Only half of EU countries say they would engage in resettlement from Syria, while just several hundred arrivals are expected to come to the UK over the next three years - under the vulnerable persons' relocation scheme. However, the charity Asylum Aid said that in the UK, men's asylum claims often relate to political activities, but women face persecution that is less easy to document - such as sexual violence.
"It is clear that there is a systematic disadvantage facing women within the UK asylum system, which results in them having to fight to have their stories believed in court before receiving the protection that they need," a spokesperson told IBTimes UK. "For women who may already have fled war, rape or domestic violence, being disbelieved can be doubly traumatising."
"While calls are rightly being made for the prevention of sexual and gender-based violence in situations of conflict and displacement around the world, similar standards and safeguards are needed for those women who reach the UK and seek protection."