Hard rock band System Of A Down performed live in Armenia for the first time on Thursday (23 April), to mark the 100th anniversary of the Armenian genocide.
The Armenian-American band, who are descended from survivors of the genocide, has been campaigning for the Turkish government to recognise the massacre of around 1.5 million Armenians as a "genocide" since 1997, when they released their first professionally recorded song on an Armenian genocide recognition compilation.
Rolling Stone showed a live stream of the free gig, which was held in the Armenian capital Yerevan to close the band's month-long Wake Up The Souls Tour, which began on 7 April in Los Angeles.
"Part of [the tour] is bringing attention to the fact that genocides are still happening, whether you use the word 'genocide,' 'holocaust' or 'humanitarian catastrophe,'" lead singer Serj Tankian told Rolling Stone.
"None of that is changing. We want to be part of that change. We want the recognition of the first genocide of the 20th century to be a renewal of confidence that humanity can stop killing itself."
A statement on the band's website called for "the good people of conscience in Turkey to take a stand for truth and justice, and ask their President and Parliament to accept the Republic of Turkey's moral and material responsibility for the Armenian Genocide."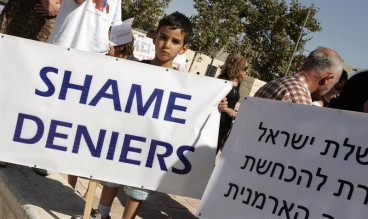 Turkey has never accepted the term "genocide," maintaining that the killings were a regrettable consequence of war, and denying that ethnic Armenians were systemically targeted for extermination.
Over 20 countries, including France, Italy, Germany, Russia and Canada, recognise the events as a genocide, but others including the UK and US do not.
Israel, too, does not recognise the events as a genocide, with officials saying that they do want to sour relations with Turkey and Azerbaijan, with which it has a strategic alliance. Foreign Ministry spokesman Emmanuel Nahshon presented Israel's official position to Al-Monitor, saying: "Israel's position has not changed. We are sensitive and attentive to the terrible tragedy of the Armenian people during the First World War, and express our empathy and solidarity. Most of the international community's efforts must be focused on preventing humanitarian tragedies in the future."
Earlier this month, the European Parliament ruled that the murders amounted to genocide, and Pope Francis infuriated Turkey by using the term during a mass in Saint Peter's Basilica.