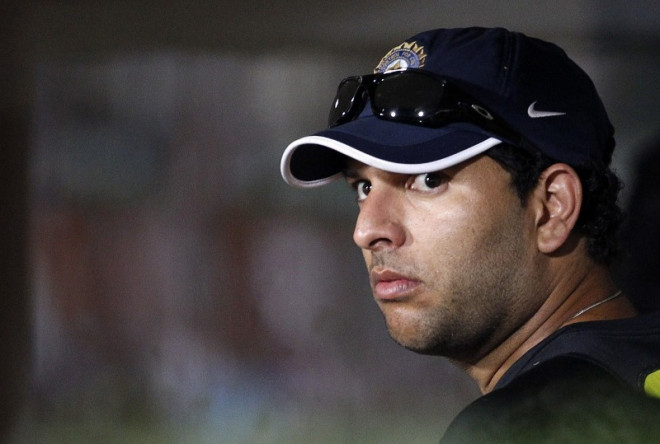 In the wake of India's defeat in the final of the T20 World Cup, many fans will be pointing the finger of blame squarely at one individual, a man who divides opinion like no other member of his country's cricketing elite.
Yuvraj Singh had arguably his most disappointing night as an Indian player, scrabbling just 11 runs from 21 balls and stalling his side's momentum at a crucial time. He starved Virat Kohli of the strike, and left MS Dhoni with just two overs in which to blast his side to a respectable total.
No-one, not even the uber-confident Yuvraj, would claim this was a night to remember for India's hard-hitting left-hander. Those who perceive him as mouthy and arrogant will have revelled in watching him being put in his place. But before the Twitter haters start composing their vitriolic vignettes against him, let's get things into perspective.
First of all, we're talking about a man who has beaten cancer and, incredibly, returned to professional sport. In fact he battled his way back into the national team just four months after completing his course of chemotherapy – surely no sportsman has ever returned to the service of his country so soon after a serious illness.
And what a service Yuvraj has given his country. He has a career ODI strikerate of 87 and a T20 strikerate of 148 – bald statistics that speak louder than any pundit's opinion or analysis. Just three years ago, before the cancer struck, he lit up the 50-over World Cup and was arguably the best limited-overs batsman in the world. Anyone criticising him after tonight's match has a short memory indeed.
Yes Yuvraj has struggled in this tournament; only against Australia has he looked his true, belligerent self. The big shots have been scuffed and cue-ended, the running between the wickets has appeared jittery and confused. He has seemingly been trying to hit the ball too hard, in an attempt to assert his authority and revive his reputation as the bludgeon of India's middle order.
But why wasn't this addressed by the coaching staff? Why wasn't Yuvraj dropped down the order, or left out of the side and given a break? Presumably he isn't the man who picks the team or decides the batting line-up, so the blame must lie elsewhere.
Tonight India had the ideal opportunity to raise the tempo of their innings by sending in Dhoni, rather than Yuvraj, when Rohit Sharma departed mid-innings. India's skipper, a player renowned for his ability to bludgeon the death bowlers, would have had ample time to play himself in and launch an assault late on. But Duncan Fletcher and his coterie refused to change the order to utilise their key player. The fact that Dhoni's bat remained holstered until the 19th over is down to them, not the man who went in before him.
Ultimately, India's failure was a collective effort. None of the batsmen covered themselves in glory apart from Virat Kohli, and even he would have gone cheaply had Lasith Malinga held a simple catch. The litany of mistimed shots demonstrated an inability to master the pace of the pitch, and Sri Lanka's gang of wily tricksters. While Lasith Malinga shuffled his pack brilliantly, it helps when you've got 11 jokers to choose from.
Tonight's match was all about Sri Lanka. After so many near-misses, they deserve all the credit. Those pouring hate on Yuvraj do not deserve the wonderful entertainment he has given them over the years.