Taiwan's foreign ministry has confirmed that President Tsai Ing-wen will indeed transit in the US when she visits Latin American countries next month, despite China urging Washington to block her stopover. The move is further bound to irritate an already angry Beijing as it comes when the communist country has been warning Taipei that its efforts will go in vain if it seeks for formal independence.
Taiwan confirmed earlier this month that Tsai would visit Honduras, Nicaragua, Guatemala and El Salvador – in the same order – from 7 to 15 January 2017. However, details of her transit will be disclosed latest by the end of this week, the ministry said on Thursday (29 December).
The American Institute in Taiwan, the de facto embassy of the United States, has not commented on Tsai's itinerary.
China has warned the US against allowing Tsai to stopover.
"We hope the US can abide by the 'one China' policy...and not let her pass through their border, not give any false signals to Taiwan independence forces, and through concrete actions safeguard overall US China relations and peace and stability in the Taiwan strait," Reuters cited Hua Chunying, China's foreign ministry spokeswoman, as saying.
Beijing has been deeply suspicious of Tsai's actions as it is of the opinion that her pro-democratic party might push for the formal independence of Taiwan. China considers the self-governing island as a breakaway province that is ineligible for state-to-state relations.
Taiwan has had around 30 diplomatic allies until a decade ago, however, it now maintain formal ties with only 21 countries, that too with those nations in Latin America and the Pacific that are mostly smaller and poorer.
China will closely watch Tsai's transit as it is speculated that she may meet Donald Trump although her visit comes ahead of the US president-elect's inauguration on 20 January.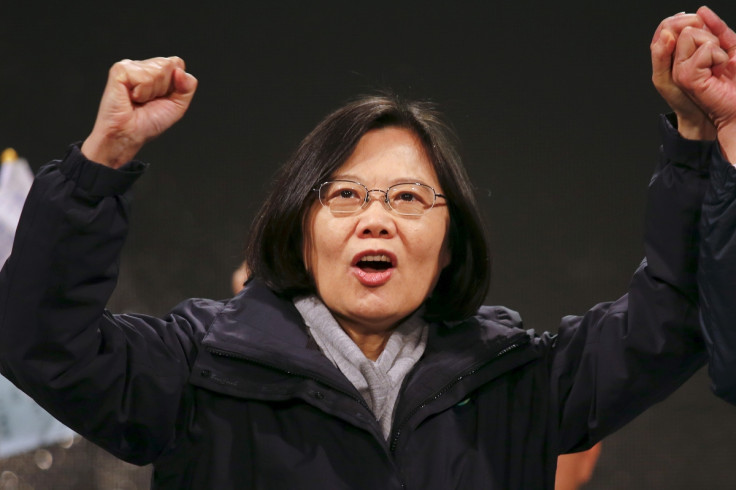 President Xi Jinping's administration is facing host of threats to the country's status quo from Hong Kong too as pro-democracy demonstrators in the semi-autonomous state are calling for complete separation from the mainland.
"A small group of pro-independence forces in Taiwan are colluding with Hong Kong independence advocates to divide the nation," South China Morning Post cited An Fengshan, spokesman of the Taiwan Affairs Office at the State Council, as saying on 28 December.
His warning comes as lawmakers from Hong Kong, along with pro-democracy activist, Joshua Wong Chi-fung, confirmed they would attend a political forum in Taipei next month.
"Their attempts will not succeed. They will end up with their heads broken and bleeding," he said.