Taiwan, also known as the Republic of China, is poised to elect its first pro-independence leader in 20 years opening a new chapter in relations between Taipei and the People's Republic of China.
Tsai Ing-wen is expected to chart a pragmatic path with Beijing if her Democratic Progressive Party wins at the ballot box on 15 January but the vote will indicate a shift in Taiwan's relations with its larger neighbour. Taipei has become increasingly weary of its economic dependence on mainland China and fears its democracy will be overshadowed by Beijing's increasing influence.
Polls indicate the Taiwanese have become unimpressed by economic stagnation on the back of slowed exports from China. The feeling that Taiwan could get a better deal if it went it alone looks to take power from the hands of Ma Ying-jeou from the ruling, pro-China KMT party which has held sway since the country's first elections in 1996.
CNN reports a record 556 candidates are running for Tiawan's 113 seats, with drama expected in the parliamentary elections. While the cause of changing public opinion is economic the repercussions will be diplomatic.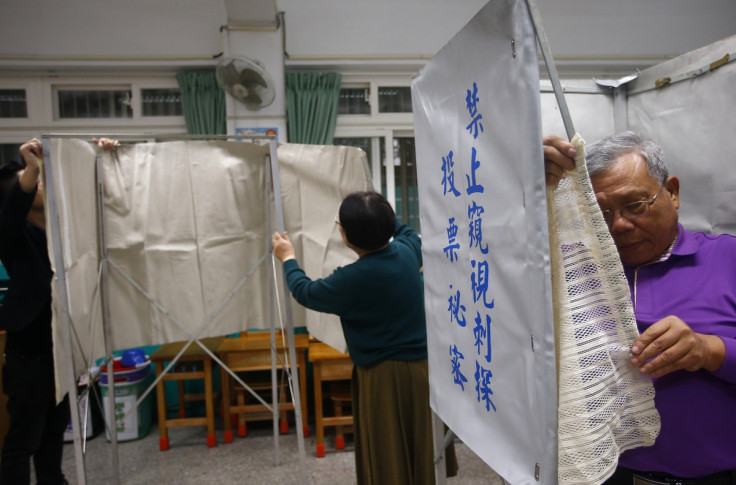 While China and Taiwan have enjoyed improved relations since the signing of the One China principle in 1992, the Communist Party in Beijing still nevertheless views the island nation across the straits as a renegade province.
The two Chinese governments have enjoyed significantly improved relations under Ma Ying-jeou. For the first time the leaders of the two rival nations met in Shanghai and a free trade pact was agreed.
However, the closer stance was met with protests at home. In March 2014 thousands of students stormed the Taiwanese parliament to protest a cross-strait service trade agreement over its economic impact.
The emergence of two governments in China, both claiming sovereignty over the entire nation dates back to 1949 and the civil war in the country which preceded communist takeover.
The former Chinese government fled to Taiwan were it claimed to rule in exile. In the 1990s both Taiwan and Beijing agreed there was only one China despite the disagreements on sovereignty.