Nestled on the top of a hill in Gikondo, a sector in Rwanda's capital Kigali, is a holiday home frequented by tourists, but also local beggars with physical disabilities. Founded by Janvier Ntwara and Petr Kocnar in February 2015, Talking Through Art (TTA) is a non governmental organisation that runs art therapy and educational programs for youths and adult beggars with physical impairments.
Poverty in Rwanda
Rwanda has been experiencing a steady progress since the end of the genocide in 1994.
The poverty rate has decreased by 5.8%, from 44.9% in 2011 to 39.1%. The extreme poverty rate has also dropped by 7.8% since 2011 and it now stands at 16.3%.
In spite of the progress made, Rwanda is still a low-income, landlocked country where the majority of people still depend on subsistence agriculture. Nearly two million people still live with less than a dollar a day and the country's economy lacks diversification.
"We rent rooms and we use the money to fund our projects," Ntwara explained to IBTimes UK. "Petr was a therapist back in Czech Republic and my background is in arts and fashion design. So we combined our skills and our passion to help others and we came up with this project.
"Approaching people on the streets was easy: We introduced ourselves and explained we wanted to help them, teach them skills for free. Some of them thought it was a waste of time as they could just stay on the streets and beg for money, but most of the people we approached came and were very happy," he continued.
TTA runs workshops three days a week and the beneficiaries – currently around 20 – learn how to knit, make jewellery and paint. They also learn English, the most spoken language in Rwanda after Kinyarwanda and French.
"Now we are looking for sponsorship for tailors to come here and teach people how to tailor. We want to keep teaching people professional skills so that they can find jobs," explained Ntwara.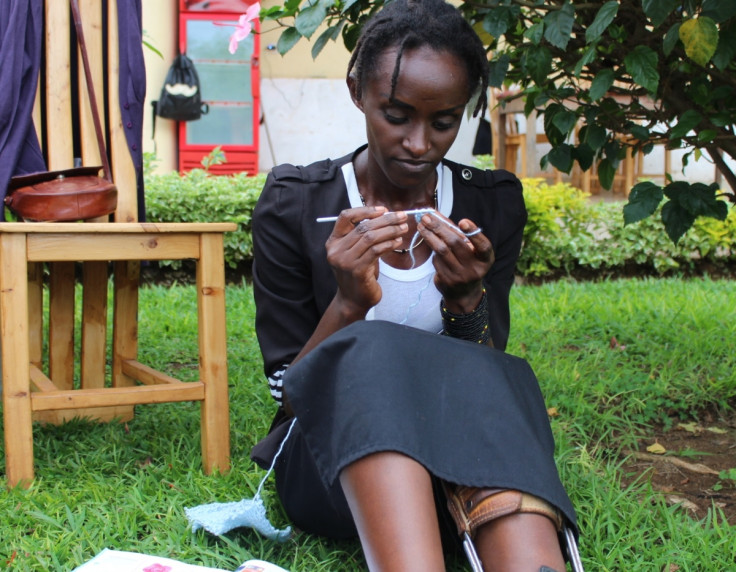 I want to teach these skills to my friends on the street
Muhawenimana Emilienne, 29, has been attending TTA's workshops for more than one year. Having loved manual activities since she was a child, she enjoys the workshops and she feels at home.
"At first I did not know anyone, but now I feel I am at home and we all feel like we are family, we are all happy about what we learn here because it is useful for our future," she told IBTimes UK. "Instead of going to the streets to beg, I think I will be able to find a job. I would also be happy to teach my friends on the streets what I learn here. I want to help them."
---
If you wish to donate to Talking Through to Art, you can click here for more details. You can also visit the NGO's Twitter account.
---