In the wake of the TalkTalk hacking scandal, which has affected up to 4 million of the internet provider's customers, experts are warning those who have had their data leaked can expect to be flooded with spam emails, in a pattern similar to what was experienced by Ashley Madison users after the details of 32 million Avid Life Media users were breached.
Much of the focus of the danger posed to TalkTalk customers has been on leaked credit and debit card numbers, however avalanches of emails can at times paralyse accounts or expose users to scams in a secondary wave of fraud.
MailChannels, a provider of anti-spam technology, has shown a huge spike in spam emails to Ashley Madison users after their addresses were leaked between 18 and 20 August.
CEO of MailChannels, Ken Simpson, told IBTimes UK that TalkTalk customers could expect to be similarly exposed to a barrage of targeted and general spam. "For those customers whose email addresses have been compromised in this attack, they can expect to receive a steadily growing amount of scams and spam – both targeted and general.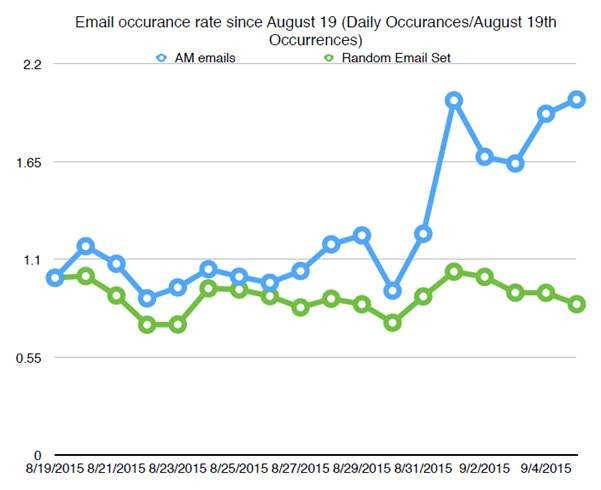 Simpson explained the Ashley Madison data showed spam would not be immediate but that once a sustained level had been reached, it would continue. "The increased volume in spam won't come right away, but evidence from the Ashley Madison data leak shows that the growth in volume of this c**p will be sustained; it isn't going to tail off with time."
The TalkTalk hack and the Ashley Madison data breach have highlighted the vulnerability of companies' networks to hackers. Police across north America have pooled their resources in attempts to track down the Impact Team which orchestrated the hack on Ashley Madison's parent company Avid Life Media, no one has so far been arrested for the breach.
Police in Northern Ireland have arrested a 15-year-old boy in connection with the TalkTalk data leak. Initial reports had claimed the hack was orchestrated by Islamic State. It has since emerged that the alleged hacker, a teenager from Antrim, had been obsessed with video games and had had problems at school. He has been released on bail.