Just a decade ago, Netflix was relatively unknown – particularly in the UK – as only a percentage of the people in the countries that it was available in actually used it. Now, it is one of the world's most recognisable brands.
It is paving a new way for television, creating shows that might not have necessarily found a place on either terrestrial or cable TV and therefore pushing the boundaries on what the medium has to be, rather than just acting as a platform for other studios' work to get noticed. Many of its original shows have been nominated or won Golden Globes and Emmys and they have huge fanbases all over the world.
Orange Is The New Black
With its ever-growing popularity and success, Netflix hosted several panels at 2015's Television Critics Association event and among them were famous faces from Orange Is The New Black. While they kept relatively shtum on what they might be getting up to in the fourth season, the cast opened up about how past seasons have changed people's perspectives of certain characters they present on the show, for the better.
Lea DeLaria, who plays Big Boo, said: "What we've done is a large part of the LGBT [lesbian, gay, bisexual and transgender] community getting rights, fighting for rights and achieving our rights. It's been about winning the hearts and the minds of people, and Orange Is The New Black has been an important part of what has happened in our community."
Natasha Lyonne, who plays Nicky on the show, added: "It's an extraordinary, profound show to be on that human level; we're thrilled that we got to be part of this moment and time, being these proxy representatives of things we believe in."
Finally, Selenis Levya (who plays Gloria Mendoza) triumphed Netflix's bravery when it comes to portraying all sorts of characters. She said: "We're showing the world that it's OK to have different women and people represented. Netflix has been bold. We started a trend, and that trend is to be diverse — to be a butch, to be a Latina — we started something."
Chelsea Does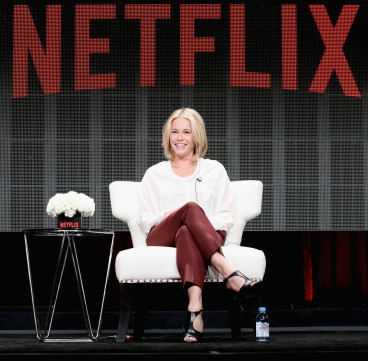 Despite being relatively new to Netflix, Chelsea Handler also joined the Beverly Hills TCA event to discuss her upcoming projects with the streaming service.
"It's been a really transitional year for me," the 40-year-old, who was one of the frontrunners to take over from David Letterman after he announced his retirement from The Late Show in 2014.
However, the controversial comedian admitted she never would have wanted to be his successor. She confessed: "I was not interested in going to a network. I was never interested in taking someone else's job."
Handler has already worked with Netflix when she released her stand-up special, Uganda Be Kidding Me, exclusively to the streaming platform in 2014, but she is currently finishing production on upcoming docu-series, Chelsea Does. It will include four separate films: Chelsea Does Marriage, Chelsea Does Drugs, Chelsea Does Silicon Valley and Chelsea Does Racism.
As it stands, there is no official date as to when the series will go live on the site, but the former E! presenter has agreed to star and produce her own talk show for Netflix as soon as Chelsea Does is finished filming.
"A lot of changes have happened and to have this come together in a way that I'm so proud of - I don't know that I've ever been able to say that about something I've done before," she added.
Unbreakable Kimmy Schmidt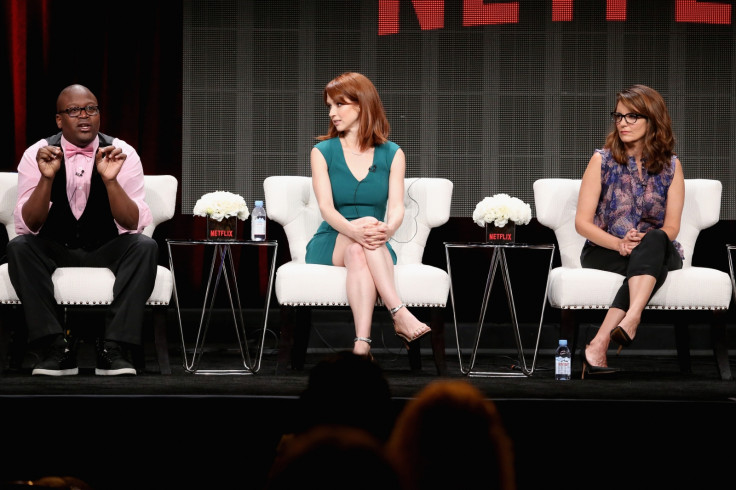 Written by 30 Rock star Tina Fey, Unbreakable Kimmy Schmidt was met with hugely positively reviews when it landed on the site in March, having being saved by Netflix after NBC decided to drop the project following its development of the first season.
It was announced the show was going to have a second season just a few weeks later and when asked at the TCA panel whether it will break free of its notable "PG-13" style now it is completely exclusive to Netflix, Fey confessed it probably would not, suggesting by now "the tone of the show does feel set."
"I don't think you'll hear profanity or see nudity," she claimed. However, she could see some benefit to not being on mainstream TV. She said: "It gives us a licence to play with time and structure and not having to worry about offending an advertiser or the NFL."
Their confidence in the way the show is also set-up is understandable given its success: the quirky comedy starring Bridesmaids star Ellie Kemper just earned itself seven Emmy nominations but creators Fey and Robert Carlock are keen for the storylines to keep moving forward, particularly in the realms of character development.
"Just because we ended season one with the trial — [Kimmy] would love to put that behind her, but some new obstacles may present themselves before she can go on and live a fully realised life," said Fey. "She's sort of in a big hurry to get everything she wanted out of life and hitting some speed bumps along the way."
Netflix also announced exciting news that Parks And Recreation star Aziz Ansari is getting his own series, adult-animation BoJack Horseman has been renewed for a third season (while series two of Sense8 is surprisingly still yet to be picked up), the first episode of Fuller House has been filmed and Arrested Development is in talks for season five.
Also revealed at the event were Marvel's Jessica Jones, Sofia Coppola's festive Bill Murray special, A Very Murray Christmas, and the third and final series of supernatural show Hemlock Grove will be available to stream on the site by the end of the year.