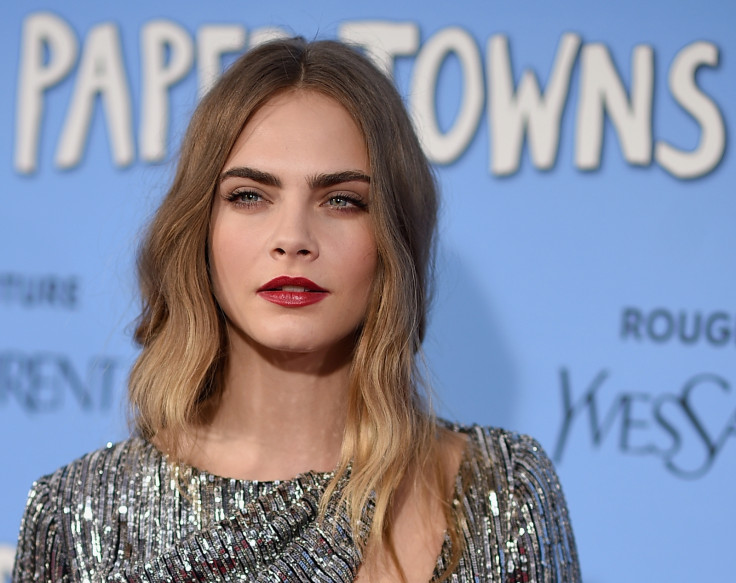 Cara Delevingne has been busy promoting her new movie, Paper Towns, all over the world over the past few weeks but she might be done with live television interviews for a while, after her painfully awkward one with Good Day Sacramento yesterday (28 July).
The interview got off to a bit of a prickly start when one member of the trio of hosts introduced Delevingne as "Carla," and then opened by asking whether the model-turned-actress had bothered to read the novel in which the movie was based, before she signed up for the role as Margo.
The 22-year-old answered back sarcastically, saying: "No, I didn't read the book or the script actually, I just kind of winged it," before admitting that in reality, she did read the novel and was a big fan of author John Green. "If you haven't read his books, you should," she added.
The show's co-host, Ken Rudulph, then attempted to get a more jovial response from the Anna Karenina star by wondering whether she found it "easier to focus" because she has been staying so busy with her work schedule as of late.
But this question seemed to perplex Delevingne even more as she responded: "I don't know where that came from," going on to admit "it's not too hard" to focus simply because she is "living [her] dream" and is extremely passionate about what she does.
The first interviewer then asked her second question, inquiring as to whether Delevingne has anything in common with her on-screen character and what were the specific things she liked about her, that is if she did like her.
"I actually hate her," a deadpan Delevingne replied, before revealing she did think they had certain things in common, particularly that she had said things in her personal life before that Margo seemed to say herself within in the movie.
Calling her out on her seemingly deflated attitude, third co-presenter Mark S Allen, asked Delevingne whether she was "just exhausted", claiming she was a lot more enthusiastic about talking about the film a couple of weeks ago. But the actress jokingly explained she had had an emotional night the night before (at the LA premiere of Paper Towns) and she probably had a lot more energy in past interviews, as it was early in the morning during the junket.
The interview took a turn for the worse when anchor Marianne McClary stated Delevingne seemed "irritated" and added "maybe it's just us". Delevingne answered: "Yeah I think it's just you."
McClary then retorted: "We'll let you go then, how about that? We'll let you go take a little nap, maybe get a Red Bull." The last thing watchers heard was Delevingne suggesting the presenters had gone "too far" before the video stream between them was abruptly disconnected.
The hosts continued talking to each other about the frosty exchange, voicing their frustration with the failed interview and the star's "mood". Allen finished by claiming "[if] you make $5m for six weeks' worth of work, you can pretend to talk to Good Day Sacramento with some oomph".