Five Chinese gamers are today $5 million (£2.9m) richer having battled their way to victory in The International 4 - the richest e-sports tournament in history which saw Dota 2 players from around the world compete for a prize pool of over $10m.
The final battle saw Chinese-based Team Newbee take on compatriots Vici Gaming in a best-of-five joust in Valve's multiplayer online battle game Dota 2.
While Vici Gaming will be disappointed with its loss, the five teams members will be comforted by the fact they get to take home the second prize of $1.5m.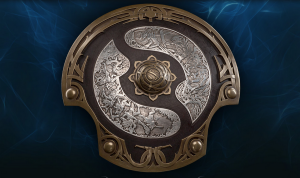 Team Newbee, as its name suggests, was only set up in February specifically to try and win the Aegis of Champions, the specially designed shield (right) which is presented to the winners of The International as well as the huge prize money.
The International 4, which was organised by Dota 2 developers Valve, saw the 16 best teams in the world compete in a tournament which was held in the 17,000- seater KeyArena in Seattle, indicating the huge increase in popularity e-sports has experienced in recent years.
Tickets for the tournament, which cost $99, sold out within an hour.
While Valve organised the tournament and put up some of the record-breaking prize money, most of the pool came from Dota 2 players themselves who bought the in-game Compendium which gave them access to new cosmetic items for their heroes while also supporting the game they love.
The huge prize pool is more than that available to competitors in the US Masters, Tour de France or Kentucky Derby.
What is Dota 2?
Dota 2 (which stands for Defence of the Ancients) is a free-to-play multiplayer online battle arena (MOBA) game which pits two teams of five players against each other.
Each team is assigned a corner of the arena and must defend a building called the Ancient. Each player controls a Hero character and focuses on levelling up, collecting gold, acquiring items and fighting against the other team to achieve victory.
Dota 2 is developed by Valve and is available exclusively through its Steam distribution service for Windows, Mac and Linux.
The game is free to play, and all characters are accessible in the free version, with Valve making money from sales of cosmetic items, new announcer voice packs, and other things that don't have a direct effect on gameplay.
It currently has 7.86 million subscribers.