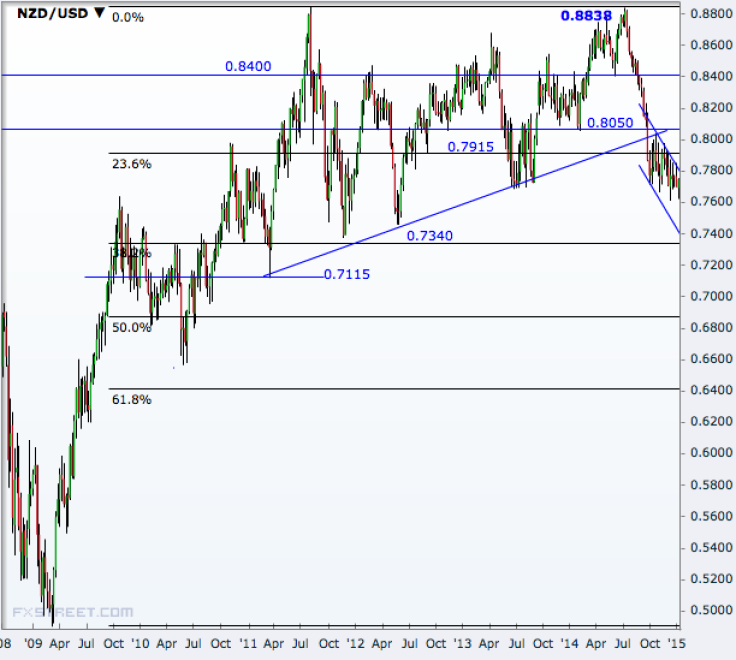 The New Zealand dollar is showing some resilience over the past three weeks holding above the December lows but technical analysis shows that the Kiwi dollar's broad downtrend is intact.
At the December low of 0.7607, which was a 30-month low, the NZD/USD pair was off more than 13% from the three-year high of 0.8838 touched in July.
Overall, the NZ dollar was less affected in the greenback rally with a 5% yearly drop, and that strength is reflecting in the trading of the early days of the New Year as well.
The dollar index has rallied more than 1.6% in a matter of three working days in the New Year, extending the last year rally. However, the NZ currency is just 1% weaker from the 2014 close, and more importantly, it is holding above the 9 December low of 0.7607.
At the same time, charts do not showcase any strong support for the currency pair. The downward channel shaped up in October is still on track to hit new lows in the coming weeks.
The fact that the recent downward channel has taken form after a decisive break of the upward channel since 2011 adds to the downbeat momentum of the pair.
NZD/USD has its next major support at 0.7340 although 0.7455 might offer some support before that. Further south, the level to watch is 0.7115, a break of which will start weakening the broader upward momentum dating back to 2009.
In case of a reversal, 0.7915 will be the first level to watch out for ahead of 0.8050, a break of which will increase the case of the resumption of the uptrend since 2011.