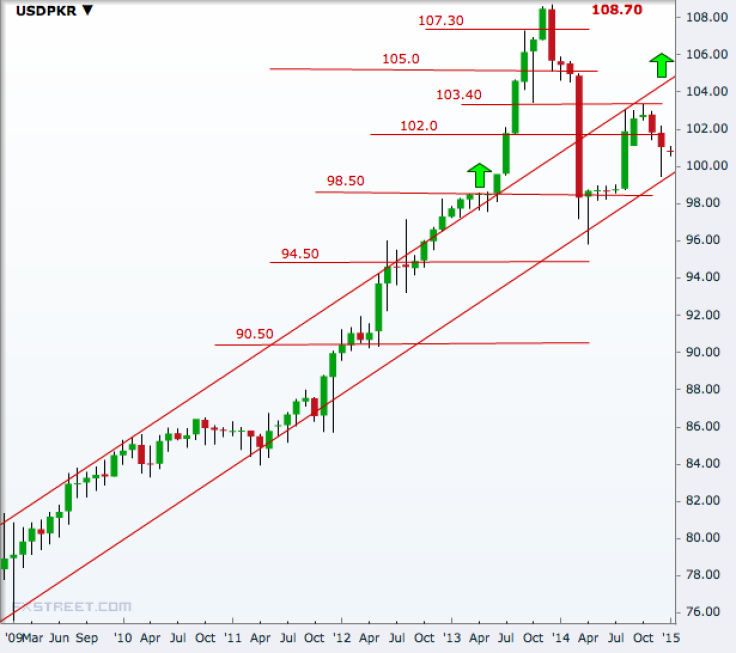 While most of its regional peers are trending down against the dollar, the Pakistani rupee has been keeping an upward trend since October, but it seems like it will hit a key resistance soon, strengthening the case for a technical reversal.
Inflation rate accelerating in December is the latest rupee-positive, but with the overall dollar strength weighing on the rest of Asian and major global currencies, the Pakistani currency doesn't seem to have much room left on the upside, fundamentally as well.
The Pakistan inflation rate rose to 4.3% in December from 3.96% in the previous month as food, clothing and housing, water, electricity and gas prices edged up, data showed last week. The November rate was an 11-year low.
But the core inflation rate dropped to 6.7% from 6.9%, adding to concerns that fundamental factors will not likely be strong enough to offset the technical selling in the Pakistani rupee.
The USD/PKR pair has been trending lower over the past three months off a channel resistance, and at Monday's low of the pair, the rupee was up 2.5% from its October trough of 103.33.
With the current downtrend of the pair hitting channel support near 100.0, which is likely in the coming days, the rupee will be testing a strong resistance.
A reversal from there on would take the pair to 102.0 first and then to 103.40, but a stronger resistance point will be 105.0, which is likely to be the new channel resistance for USD/PKR, or support for the rupee.
If Pakistan fails to provide fundamental reasons to keep its currency, and if the dollar retains its safe haven demand in the coming months, then the pair is likely to break the channel on the higher side just as it did in June last year.
In that case, the first level of market attention will be 107.30, but it is unlikely to stay longer before the pair retest the 2013 December peak of 108.70.
Conversely, if the pair keeps the downward trend beyond the 100-mark, the first level to watch would be 98.50, as the pair will keep its upward risks intact as long as that level holds.
A break of that will open doors to 94.50 before hitting 90.0 and below.