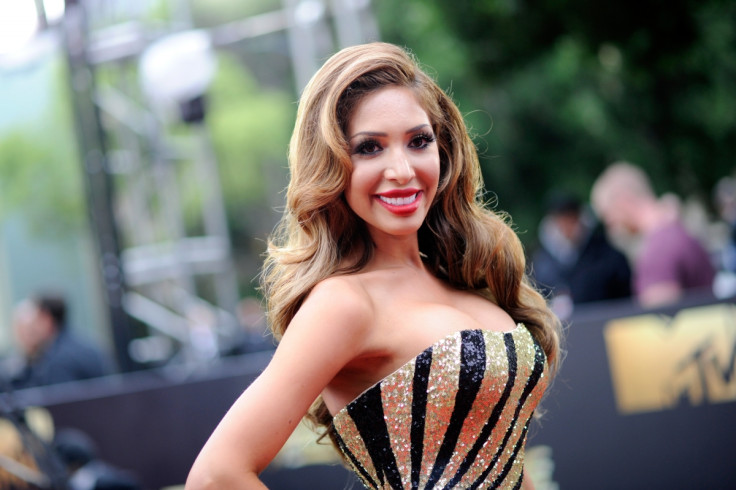 Farrah Abraham's fans are furious over the Teen Mom star sharing a racy video on social media, in which she can be seen showing off her curves while promoting a fancy strapless bra that is supposed to be the "best invention ever".
In the clip, the 25-year-old reality star can be seen demonstrating the usefulness of the strapless bra. "Hey girlies had to share this with you all. Watch this. Time to go out. Sucks them together. Thank you sneakyvaunt. Time to head out. Bye...Look it up," she said with a giggle.
However, the video did not go down well with her fans on Instagram as she was accused of being a lousy mother to her 8-year-old daughter Sophia.
"@ridetildie.250 yes she needs MENTAL HELP ASAP!!!! Poor Sophia isn't being raised right!!!" a fan wrote, while another said. "You are the worst mom ever!!"
"Please please save her daughter from a horrible future!" a third fan said.
"You are so stupid I can't even stand you on teen mom #GetALife," a fans wrote. "FARRAH ACCOUNT ⏩@farrahabraham.fans YOU have NO FANS! People follow you to Laugh at you! Your such a MORON lmao its pretty entertaining!!!' another said.
Fans' questioning Abraham's parenting skills could have some credence as a report from The Hollywood Gossip has claimed that she has used her daughter by making her wear "bikinis and heels" to push her own modelling career. She has also left her daughter for weeks at a time to do reality shows, the report added.
Although, she faced the wrath of her fans, Abraham didn't let it get to her. "This is Fab! Thank you to all the ladies who are excited & use #Sneakyvaunt," she said.
Abraham began her acting career in 2009 with 16 and Pregnant, and followed it up with Teen Mom. In 2013, she made headlines after an alleged sex tape with porn star James Deen was made available online and was titled Farrah Superstar: Backdoor Teen Mom. The following year another of her sex tape titled Farrah 2: Backdoor and More was released.