Israeli Prime Minister Benjamin Netanyahu headed to high-level discussions with his ministers as soon as he landed back in the country from Russia to deal with the Tel Aviv shooting incident. As he vowed to take "decisive" action against the shooters, Israel Defence Forces (IDF) descended on the suspects' town of Yatta, in West Bank, to press on with their operation.
Four people were killed and 16 others injured when two gunmen, both thought to be Palestinians, opened fire at a packed cafe in Tel Aviv's Sarona market. Both the attackers have been captured by the Israeli forces, although one was injured due to a failed attempted to escape.
Speaking to reporters, Netanyahu said: "The terror attack this evening in Tel Aviv is a very difficult event of cold-blooded murder by atrocious terrorists. I send my condolences to the families of the victims, whose lives were destroyed in a moment, and I wish a full recovery to the injured.
"We will take a series of offensive and defensive steps, we will locate anyone who cooperated with this attack and we will act firmly and intelligently to fight terrorism."
As soon as he landed at the Ben-Gurion International Airport in Tel Aviv, Netanyahu went straight to the shooting scene and held security talks with Defence Minister Avigdor Lieberman and chiefs of police and Shin Bet.
Even as Netanyahu promised stern action, IDF personnel were being mobilised in Yatta. The army has declared the village a closed military zone and plans to interrogate anyone who has links to the suspects.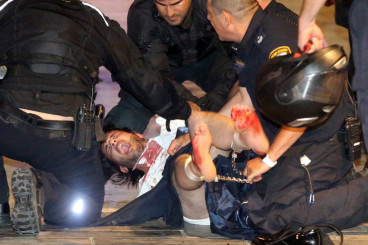 Media reports in Palestine suggest that the Israeli military forces are mulling to arrest family members of the two perpetrators in order to question them. The homes of the suspected shooters have been surrounded by the IDF and are being placed under constant monitoring and surveillance.
"I don't think this is the time to issue pronouncements but everything necessary we will do and we will do in a severe manner. We won't accept this situation, they cannot escape responsibility," said Lieberman.
No one has so far claimed responsibility for the attack. But, both Hamas and Fatah have praised the shooting incident. The official Twitter account of Hamas hailed the attackers as "heroic" and pledged that more attacks would take place during the period of Ramadan, a holy month in the Islamic faith.