An unusually cold weather front swept across much of eastern Asia, bringing with it heavy snow, freezing fog and record low temperatures.
All-time lows were recorded at 24 weather stations around China over the weekend (22 to 24 January). Hebei Province, in the north of the country, saw the mercury plummet to minus 41C (–43F). In the south, the normally subtropical city of Guangzhou saw its first snowfall in almost 50 years.
The sea off the coast of Qingdao and Dalian froze, trapping fishing boats in the ice. Forested areas were transformed into a winter wonderland as freezing rain left a thick coat of ice on leaves and branches. Many coastal areas saw the formation of abstract ice sculptures created by the build-up of layers of frozen sea spray.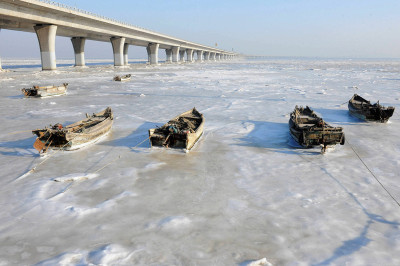 The polar vortex swept in from Siberia, pushing as far south as Hong Kong. Temperatures in Taiwan plunged to a 16-year low, killing at least 85 mostly elderly people. Hong Kong recorded its coldest temperature in nearly six decades. Heavy snow in western and central Japan left at least five people dead. Lower than normal temperatures were also recorded in Vietnam, Thailand and northern India.