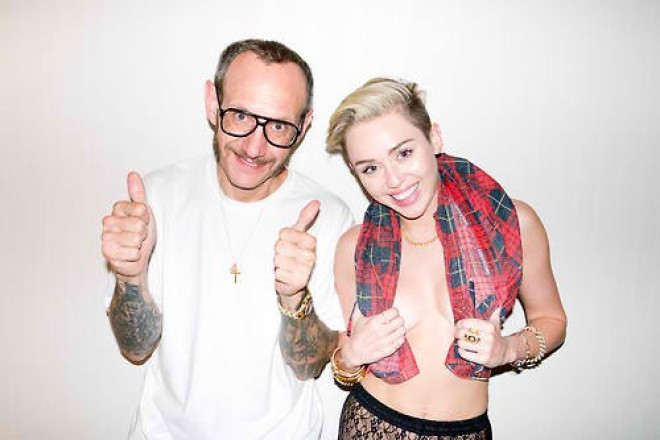 Fashion photographer Terry Richardson, 46, has been the subject of controversy over allegations of sexual assault from models he has worked with in his New York studio.
Numerous models have come forward with disturbing allegations of their sessions with the notorious "Uncle Terry". Most recently, Charlotte Waters came forward with a graphic claim about what Richardson reportedly did to her.
Known for his sexualised work, Richardson enjoys the support of fashion's most powerful players - including Vogue, GQ, Rolling Stone, Vanity Fair and Harper's Bazaar. He has shot campaigns for Marc Jacobs, Tom Ford and Yves Saint Laurent, among countless others. His work, recognisable for his use of high-profile celebrities and models in mundane poses, often depicts real and simulated sexual acts. Described as "1970s porn aesthetic turned into fashion chic", they often feature Richardson himself.
In response to allegations made by models, the #NoMoreTerry campaign has been set up to boycott the photographer and his supporters.
IBTimes looks at a timeline of allegations made against Richardson:
2001: Richardson asks Liskula Cohen for oral sex
Richardson reportedly asked model Liskula Cohen to perform oral sex on his friend during a shoot for international Vogue. She said: "The requests got raunchier and more appalling. He wanted me to be completely naked and pretend to give this guy a blow job, while he was also naked. That's when I walked out."
2004: Jamie Peck and the tampon tea
The model revealed Richardson allegedly asked her to put her soiled tampon in a cup of tea, before requesting she perform a sexual act on him as payment for his creative services. She came forward about her experience in 2010.
2004: Richardson reveals how to derobe women
Speaking to the New York Observer, he explained: "A lot of it starts with me saying to a girl, 'Do you want to do nudes?' And they're like, 'I don't want to be naked.' So I say, ' I'll be naked and you take the pictures. You can have the camera. You can have the phallus.'"
2004: Sarah Hilker exposes Richardson's technique for scouting models
Sarah Hilker revealed Richardson's technique for scouting young women to photograph. As reported in the New Statesman, Hilker said aspiring models waited in line for the privilege of stripping and "playing with him" in front of the camera. She was 17 at the time and attended the "party" using a fake ID.
2004: Richardson releases Terryworld
Highlights include a woman with a goldren egg inserted into her vagina, full frontal nude shots and images of Richardson receiving oral sex.
2010: Models expose stories to Jezebel
Rie Rasmussen, a Danish supermodel, commented in Jezebel: "Models are too afraid to say no because their agency booked them on the job and are too young to stand up for themselves."
2010: GQ publishes "Glee Gone Wild"
Richardson caused another stir by photographing Lea Michele, Dianna Agron and Cory Monteith in near-pornographic poses, while dressed as schoolpupils.
2013: Change.org petition against Richardson launched
Alice Louise, a teenager from London, launched the petition to stop the "alleged sex offender and pornographic Terry Richardson". It read: "More awareness needs to be brought to light that Terry Richardson is negatively influencing media with his supposed exploit & abuse of certain models, mainstream degrading pornographic imagery, and inappropriate and unprofessional behaviour."
2013: Richardson directed Miley Cyrus' infamous Wrecking Ball video
The pop singer simulated sex in the video, while swinging around on a demolition ball. It the record for being the fastest clip to reach 100 million views on Vevo.
2013: Richardson speaks to the New York Post
He told the newspaper: "I was a shy kid. And now I'm this powerful guy with a boner, dominating all these girls."
2014: Lena Dunham speaks out about Richardson
Speaking to the Guardian, she said: "I regret posing for Terry Richardson. As for being friends with him, he's not and never was my friend... I'm not in the business of indicting my friends for who they are in relationships with, and I'm also not in the business of being BFFs with alleged sexual predators."
2014: Richardson's right-hand female assistant
Charlotte Waters and Jamie Peck, who spoke out about their experiences with Richardson, stated Leslie Lessin accompanied Richardson on their shoots. Waters said Lessin stood over her and took photos as Richardson defiled her face.
2014: Richardson responds to Water's allegations
He denied the reports of inappropriate sexual conduct in the Huffington Post. "I give everyone that I work with enough respect to view them as having ownership of their free will and making their decisions accordingly, and as such, it has been difficult to see myself as a target of revisionist history."
He claimed he had been subject to a witch-hunt.