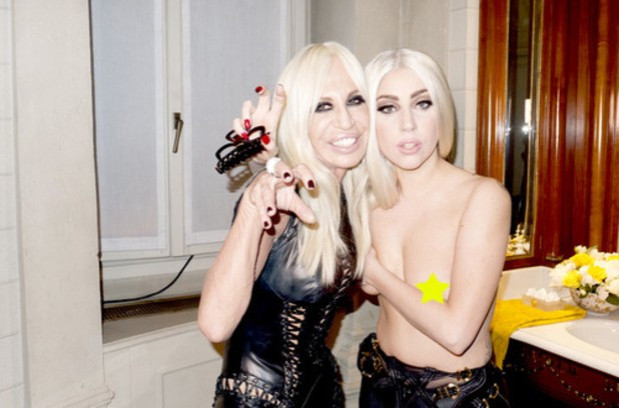 Pop star Lady Gaga has posed topless in a photo with renowned fashion designer Donatella Versace.
The 26-year-old Born This Way hitmaker stripped to her leather bottoms during her recent trip to the Italian fashion house headquarters in Milan.
In the snap, taken by fashion photographer and close friend Terry Richardson, the singer stands beside her new designer pal and uses one arm to protect her modesty.
The duo cap it off by making Gaga's trademark "monster claw" with their hands.
Richardson captioned the image, posted on his Tumblr page: "Donatella and Lady Gaga in one of Gianni's bathrooms."
In other snaps uploaded on to his site, Gaga dines with the fashion icon and holds her pet labradoodle Fozziat the home of the late Gianni Versace.
Gaga and Versace are said to have become fast friends after Gaga took her "Born This Way Ball" tour to Milan and entertained the designer at the company's headquarters.