Key Features:
7in screen (1440 x 900)
Android 4.2 (Jelly Bean)
1.5GHz processor with 1GB RAM
16GB storage, plus microSD card slot
Price as reviewed: £119
Tesco Hudl Review
With so many Android tablets now on sale, it's not surprising that Tesco wants in on the game too, as it has a fairly decent reputation for selling consumer electronics already.
Buying a tablet from a supermarket chain might seem like a bit of a risk, and this is definitely no top-of-the-line tablet, yet for those less picky about specs and keen to get onto the tablet ladder for the first time, the Tesco Hudl is definitely worth a closer look.
I've spent a week with the Tesco Hudl to see whether Tesco can pull off its entry into not just the budget tablet range, but also the 7in tablet range, and still meet my needs for a mobile computing entertainment device.
Tesco Hudl: Design and Hardware
At first glance, the Hudl is a pretty sleek-looking device that reminds me of the Nexus 7 or the Samsung Galaxy Tab 2 - it certainly doesn't look cheap. You can also choose one of four colours - black, blue, purple or red - which should keep most people happy.
The tablet fits into the palm of my hand perfectly, and while the Hudl (370g) is heavier and thicker (9.9mm) than the iPad Mini (331g, 7.5mm) and the Nexus 7 (290g), it feels solidly built and durable.
Looking at the layout of the tablet, the camera sits above the middle of the screen when in landscape mode, with the power button, volume control and microSD card slot on the right; a headphone jack and micro-HDMI port along the top edge with the micro USB port for file transfer and charging along the bottom.
The rounded edges are very comfortable to hold and the cover has a smart matte finish, but it does pick up a lot of fingerprints, so getting a tablet case for the Hudl from the range of accessories Tesco has on offer would be a good idea.
Parents might be interested to know that you can purchase a rubber child-safe cover for £15 and kids' headphones for £12 which limit the maximum volume the tablet can go up to as well.
The tablet has a 2 megapixel front camera and a 3 megapixel rear camera. The Hudl had trouble focusing when taking photos, but is adequate when used as a webcam on Skype. The speakers on the back are also impressively loud, and do not suffer from distortion.
Tesco Hudl: Screen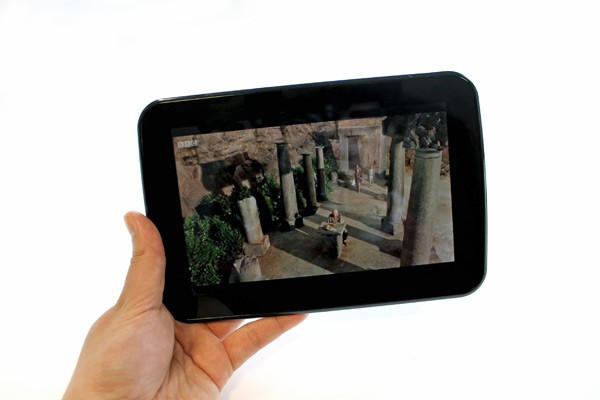 The 7in screen is surprisingly good, offering a sharp display resolution of 1400 x 900 pixels with a pixel density of 242 pixels per inch (ppi) which is higher than the Kindle Fire HDX.
Made from toughened glass, the screen offers good viewing angles that deal well with natural and artificial light. Colour reproduction is really good, offering just the right depth and range of colours when watching movies.
Icons, apps and games display clear and bright, and text in ebook or websites is sharp.
It may not be Retina display quality, but the screen is more than good enough to play games and watch movies on.
Tesco Hudl: Software and Performance
The Hudl is equipped with a 1.5GHz quad-core processor with 1GB RAM and has 16GB of storage, of which 12.6GB is usable. The tablet runs an almost pure version of Android 4.2.2 (Jelly Bean).
Tesco has added some of its own widgets that come pre-installed on the home screen, including a really handy "Getting Started" step-by-step tutorial, but these widgets can easily be removed if you prefer a clear home screen.
Of course, Tesco is using the Hudl as a vehicle to get customers to use Tesco services more often. To that end it has added a small 'T' icon in the corner of the navigation bar at the bottom of the screen, which takes you to an interface where you can order groceries, check clubcard points and pay to download or stream TV and movies from Tesco TV or the Blinkbox Movies and Music app.
But compared to the additions we've seen from the like of Samsung, Tesco's additions are relatively minor.
Therefore performance is really fast, much faster than expected, with apps loading immediately and the tablet is easily able to handle multiple apps running at once; multi-tabbed browsing and downloading large games over Wi-Fi all at the same with no lag.
However this is not an iPad mini. Apps take time to open and playing a 3D intensive game like Real Racing 3 is not as smooth an experience as on some other tablets.
The tablet also crashed four times when trying to load Skype and randomly rebooted itself twice, but since then I haven't experienced any problems in using Skype or the webcam.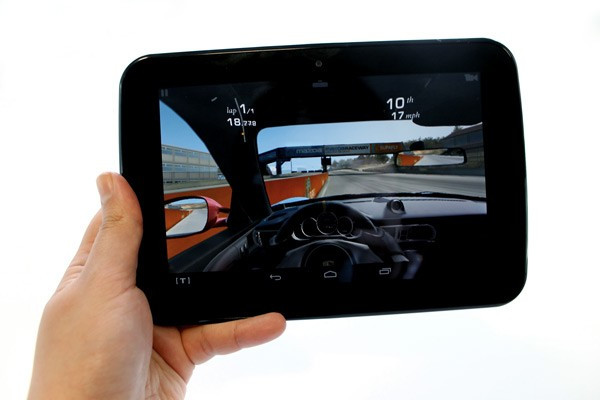 Tesco Hudl: Connectivity and Battery Life
The Hudl is a Wi-Fi only tablet supporting the Wi-Fi n standard, but the connectivity range is not amazing. The tablet would often fail to pick up a Wi-Fi signal or have only one bar of signal if it was being used in a room far away from the internet router, despite other devices like smartphones, laptops and game consoles all being able to connect just fine.
The battery life depends on how heavily you use the tablet. If used only for Facebook, a basic game app, reading ebooks and to check email, the tablet can last over a day, but if used to stream video content, play 3D games and listen to music, with many apps running in the background, the battery life lasts about five to six hours at most, which is about three hours less than the Kindle Fire HDX.
Tesco Hudl: Value and Verdict
Considering how little the Tesco Hudl costs, I'm quite impressed at the specs that you get, from the 16GB of storage and the bright, sharp display to the microSD card slot that lets you extend storage (which the Nexus 7 doesn't have) and the lightning quick performance.
Considering that the Kindle Fire HDX, which costs £70 more, does not have access to Google Play and you can use the Kindle app to purchase and read books, the Hudl really isn't a bad deal.
Not only that, but its specs are also superior to rival Argos' MyTablet and Aldi's Merion Lifetab, which are only £19 and £39 cheaper, so to me, this is the best budget 7in tablet of the 'Supermarket Three'.
Scores:
Screen: 9/10 - Good considering the price, but just short of Full HD.
Design: 8/10 - Inoffensive, but the glossy plastic edging is a bit tacky.
Operating System: 9/10 - Tesco has done well to limit the extent of its presence on top of Android, though this is an older version of Google's operating system.
Build Quality: 7/10 - Solid build but the poor Wi-Fi connection lets it down.
Value: 9/10 - At £119 you can't really criticise Tesco, though you would have thought a sub-£100 price would really have boosted sales.
Overall: 8/10 - This is a really good tablet. It may not have the premium styling or performance of some, but then again it doesn't have the premium pricing either.
The Good
Impressive screen
Decent performance for the price
Multitude of apps available from Google Play
Great amount of storage
The Bad
Wi-Fi signal range not very strong
Android apps not optimised for tablet
Camera doesn't focus