Tesla has begun giving owners of the entry-level Model S 60 the option of upgrading their car to the more expensive Model S 70, by tapping a button on the dashboard computer screen.
Similar to the way additional features can be unlocked on smartphone apps, the Tesla's range can be increased by a claimed 25% for a fee of $9,630 (£7,800), according to US-based Tesla owners who have started receiving the pop-up notification to upgrade their car.
The upgrade is made possible by software alone because Tesla no longer actually fits its cars with a 60kWh battery. Instead, both the 60 and 75 versions of the Model S come with a 75kWh battery, only in the 60 it is artificially restricted.
By agreeing to pay the $9,630, Model S 60 owners get the same performance as the 75. The update increases range from 248 miles to 298, while the top speed is upped from 130mph to 140. The car's 0-60mph acceleration time remains unchanged at 5.5 seconds. Before the update, the car starts at $66,000.
The same update is also available for the four-wheel-drive Model S 60D. Here range increases from 253 miles to 304 but acceleration and top speed remain unchanged at 5.2 seconds and 140mph.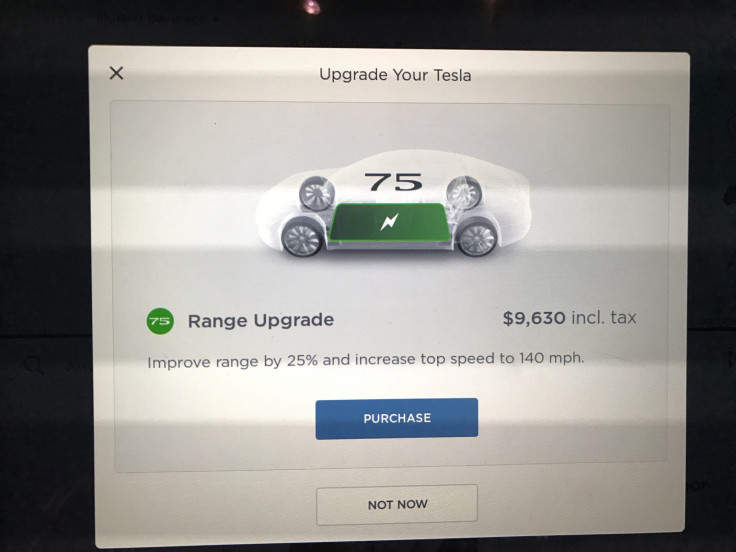 Owners can already trial and then buy Autopilot, the company's self-driving system, and given how much of the user experience of the Model S and Model X is controlled by software, it wouldn't be surprising to see Tesla expand this upgrading system in the future to include even more optional features.
Photographs of the offer to upgrade the car were sent to electric car blog Electrek, with one driver saying the message appeared when he switched the car on one morning.
The site suggests that knowing extra performance is unlocked by a software tweak could spawn a market for Tesla jailbreaking, similar to that which sees owners hack their iPhones to get extra features and more customisation that Apple allows.
Although a Tesla hacking community already exists, it is unclear if this upgrade would be easy to unlock for the casual hacker.