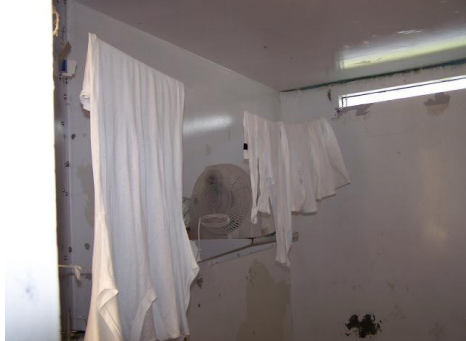 Prisoners in Texas are dying because of extremely hot temperatures inside their jail cells, a report has found.
Experts at the University of Texas School of Law Human Rights Clinic said prisoners in the Texas Department of Criminal Justice (TDCJ) system were victims of human rights violations and called for immediate changes to prevent deaths.
The report, Deadly Heat in Texas Prisons, claimed inmates suffered extreme heat inside. Fourteen inmates have died as a result since 2007, it said.
Many of those who died had pre-existing health conditions or were taking medication that made them heat-sensitive, the report continued.
Although the TDCJ has cooling procedures for its pigpens, it did not have adequate cooling in prisoners' cells. That violated the Texas Commission of Jail Standards rules.
"These conditions have not only caused those deaths, but also pose a continuing threat to existing and future prisoners," the report continued. "This practice violates individuals' human rights, particularly the rights to health, life, physical integrity, and dignity."
Ariel Dulitzky, the director of the Human Rights Clinic, said the TDCJ was aware that inmates had died from extreme heat since at least 1998.
The Texas Civil Rights Project has brought a wrongful death lawsuit against the TDCJ for the death of an inmate due to organ failure allegedly resulting from exposure to extreme heat.
The clinic - which said it would submit its findings to the United Nations and the Inter-American Commission for Human Rights - recommended the installation of air conditioning to keep temperatures below 85F (29C).
"TDCJ takes precautions to help reduce heat-related illnesses such as providing water and ice to staff and offenders in work and housing areas, restricting offender activity during the hottest parts of the day, and training staff to identify those with heat-related illnesses and refer them to medical staff for treatment," the department said.
"TDCJ staff and medical providers work closely together to identify offenders susceptible to heat related issues. A list of identified offenders is provided to housing officers who conduct frequent wellness checks on the offenders."