A 25-year-old chemistry graduate has been arrested for allegedly trying to blow up a Confederate statue at a park in Houston, Texas. Andrew Schneck was caught by a park ranger kneeling in front of the 112-year-old statue of Confederate "war hero" Lt Richard Dowling at Hermann Park on Saturday 19 August.
He was carrying two boxes along with duct tape, wires, a timer, and a bottle and tube containing compounds that tests later revealed were explosive materials, according to a criminal complaint seen by Associated Press. "When asked by (the park ranger) if he wanted to harm the statue, Schneck responded that he did, and that he (Schneck) did not 'like that guy,'" the complaint read.
Police say Schneck then tried to drink the contents of the bottle – believed by investigators to be nitroglycerin – but spat out the liquid and poured the remainder out on the ground. The Houston police bomb squad said the components found on Schneck "were capable to produce a viable explosive device".
Schneck, who has a bachelor's degree in chemistry from Austin College in Sherman, Texas, was charged with attempting to maliciously damage or destroy property receiving federal financial assistance.
He appeared in court on Monday and was ordered to remain in federal custody until a detention hearing on Thursday. Investigators were still determining a motive for Saturday's attempted bombing but there are "no indications of any additional threats to the Houston area," said Deron Ogletree, assistant special agent in charge with the FBI's Houston office.
Schneck's arrest comes after events in Charlottesville, Virginia, where a rally against the removal of a Confederate-era statue was attended by white supremacists and marred by violence.
There have been calls for the removal of Confederate-era statues at numerous locations across the US. In Houston, the statue of Richard "Dick" Dowling, an Ireland-born saloon owner in the city, was erected in 1905.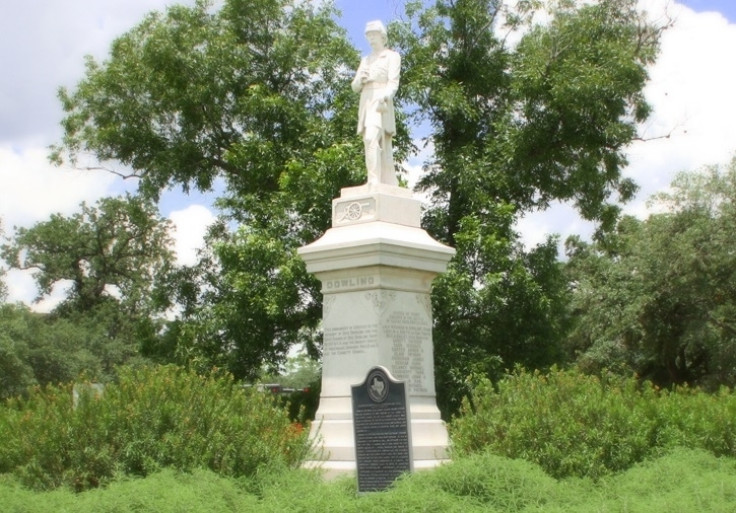 His Confederate unit defeated a Union invasion force at the Battle of Sabine Pass in 1863. Dowling was subsequently hailed as a war hero in Houston. It is not the first time Schneck has been arrested on explosion charges.
In 2014, he was detained on a charge of improperly storing explosive materials at his Houston home. He pleaded guilty but his sentence of five years' probation was cut short in November after a federal judge heard he was "not a risk to public safety" and that "his focus is no longer concentrated on high-risk activities".
After his arrest on Saturday he told police he had other chemicals at his house in Houston. The property and neighbouring houses were evacuated on Monday as authorities disposed of materials with a small controlled explosion. Schneck's mother told authorities that her son uses one of their properties "to conduct his chemistry experiments," according to the criminal complaint.