Thai man faces 32 years in prison for 'liking' Facebook post mocking the country's king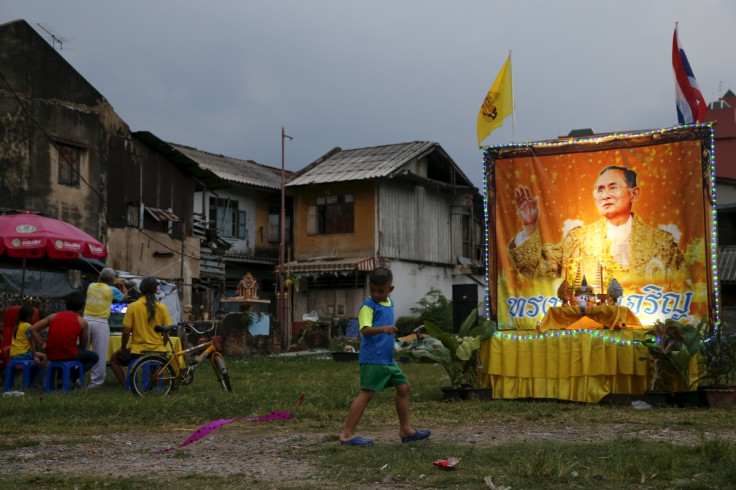 A Thai man faces up to 32 years in prison for 'liking' an image on Facebook that mocked the country's revered monarch. Thanakorn Siripaiboon, 27, is understood to have pressed 'like' on a doctored image of King Bhumibol Adulyadej, as well as sharing an infographic giving details of a Thai corruption with his 608 Facebook friends.
The mechanic was arrested at his home in Samut Prakan province after being tracked down by Thai officials. He now faces a three-decades jail sentence after allegedly confessing to charges of sedition, lèse majesté (violating majesty) and computer crimes.
Thanakorn's family say they have not been informed of the whereabouts of the arrested man – who is a member of Facebook group promoting Thailand's "red shirt" opposition. There are concerns he may become yet another of Thailand's so-called "enforced disappearances", where those opposed to the political establishment are held for years in secret military prisons.
In the last two months alone, at least two people charged with lèse majesté have died while held in Thai military jails. One of them was the crown prince's well-known personal fortune teller, according to Sky News.
Anybody found guilty of criticising the 88-year-old Thai king can face up to 15 years in prison per charge. As Thanakorn has reportedly confessed to additional crimes, he now faces a total jail sentence of 32 years.
"On December 2, he clicked the 'like' link on a doctored photo of the king and shared it with 608 friends," Colonel Burin Thongprapai, a legal officer for the Thai military, said in a statement. The colonel added that Mr Thanakorn "is well and in good condition", is being held in military custody, and is expected to appear at a military court on Monday.
A spokesman for Human Rights Watch said Thailand's secret military prisons have "now become a new standard nationwide". "There is nothing at all to guarantee the safety of those held incommunicado in military detention… without access to their families and lawyers, and interrogated by soldiers without safeguards against mistreatment," he added.
Lawyers acting on behalf of Thanakorn's family say they currently have "no idea" where the prisoner is being held and simply assume he "has become a victim of enforced disappearance".
The arrest comes as the US ambassador to Thailand also faces a police investigation for royal defamation over a speech he made last month, in which he allegedly expressed concern over the length of prison sentences handed to civilians convicted of lèse majesté, Al Jazeera reported.
© Copyright IBTimes 2023. All rights reserved.