Two Myanmar barmen who earlier admitted murdering British backpackers Hannah Witheridge and David Miller on the Thai island of Koh Tao have appeared in court in Koh Samui. DNA samples from the victims match those of the accused.
The men, named Win, 21, and Saw, 23, are reported to have said they killed the couple at Sairee Beach on 15 September because they saw them making love and became aroused and "jealous".
"The suspects saw them kissing and were aroused," said National police chief Somyot Poompanmoung, "So they attacked and got rid of the man and proceeded to rape the female victim.
"There was clear evidence: forensic evidence, witnesses and other evidence, as well as closed-circuit television footage."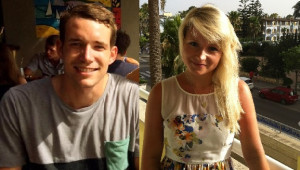 The two men were remanded in custody for 12 days and if convicted could face the death penalty.
One other man is being questioned in connection with the murders in which Ms Witheridge, 23, died from blows to the head and Mr Miller, 24, from a blow to the head and drowning.
It is thought the third man left the scene prior to the killings.
As is common in Thailand, Win and Saw were made to take part in a bizarre reconstruction in which they had to wield a dustpan representing a garden hoe allegedly used in at least one of the murders, and also had to play the guitar.
As the reconstruction took place in front of hundreds of onlookers, both men wore crash helmets and bulletproof vests to protect them from locals angry at the harm the horrific murders caused to the area's business and reputation.
Local police faced intense criticism over their handling of the horrific case, which has damaged Thailand's tourist industry, but authorities will now be hoping the island can move on following the confession of the two men.
Minister of tourism and sports, Kobkarn Wattanavarangkul, told AFP: "I think the tourist confidence will improve. The issue of tourist security is very important to us."